About the Event
Learn what goes into a great portfolio and watch a senior designer conduct LIVE UX portfolio reviews. Your UX design portfolio introduces you as a designer, showcases your UX skills in action, and tells a compelling story that will engage future employers and clients. This session will begin with an overview of how to put your portfolio together by Angi Arrington, VP of Creative at Watson Creative in Portland, Oregon. Following, we'll have a review of three pre-submitted portfolios from San Diego designers - all reviewed live!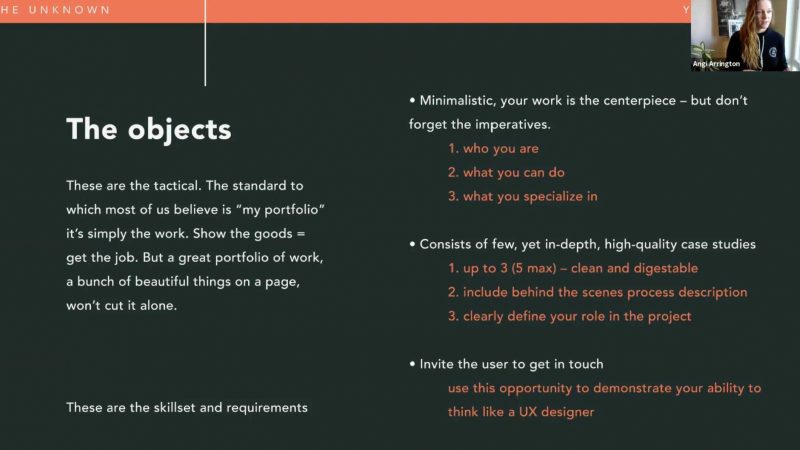 VIDEO: LIVE REVIEW: HOW TO STYLE AND PREPARE YOUR PORTFOLIO
This event was presented live September 9, 2020.
Session One Reviewers
Amy Chen, Senior Experience Designer at Barbarian (U.S.)Based in New York City,

Amy Chen is a designer and digital artist who loves working with experiences that span from the digital spaces to physical ones. A leader in human-centered experience design, she has led design on digital projects that directly impact real-time consumer experiences.
Chimmy Kalu, Senior Product Designer at WorldRemit (London)
Chimmy Kalu is a product designer who works with companies that put people first, helping them create products that solve real problems. She believes inclusive design practices should be integrated as the baseline since accessibility is a fundamental part of great UX. Having worked as a software engineer for half her career, Chimmy has worked to help heritage brands like British Airways, Vogue and GQ transform their offerings and deliver pioneering products and experiences for their customers.
Social Media:#adobexd #uxportfolios
About Adobe XD
With Adobe XD, you get one powerful tool for your whole UI/UX design process. Create user flows, wireframes, high-fidelity designs, interactive prototypes, animations, and more — no need to switch between multiple apps or worry about keeping designs in sync.

Website