About the Talk
Join Barbara Hanson Forsyth of Mingei International Museum for the story of Ellamarie (1913-1976) and Jackson (1910-1992) Woolley, one of San Diego's preeminent and prolific designing couples who are most remembered for their enameled metal work but worked in a variety of media. Their collective and individual artistic journeys resulted in an incredible body of work ranging from small-scale decorative items such as plates and pendants to monumental architectural commissions.
This talk will explore their artistic practice and significant contributions to the mid-century San Diego design and architecture scene, including the story behind Variations on a Gold Theme. This masterful mural from 1965 is part of Mingei's permanent collection and is slated to be a centerpiece of their courtyard garden in the renovated museum, opening in 2021.

Update: The mural will be deinstalled from its current site in Escondido (as mentioned in the presentation) on September 21, 2020.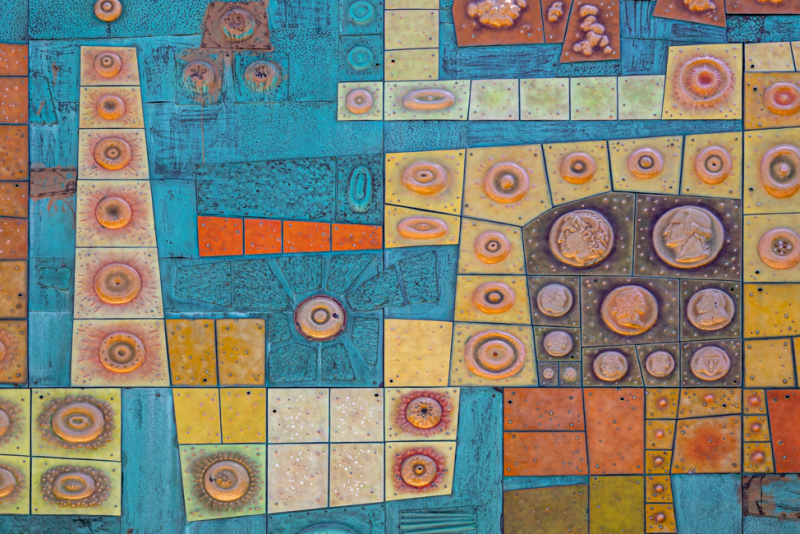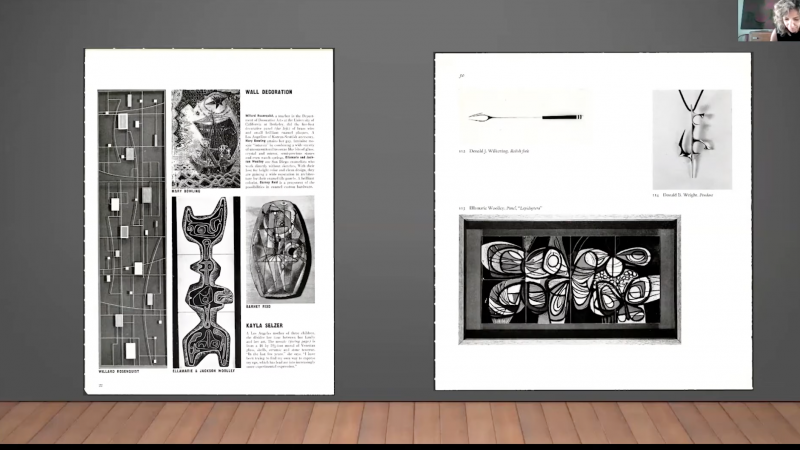 VIDEO: Love and Money: Ellamarie and Jackson Woolley
About Barbara Hanson Forsyth and Mingei International Museum
Barbara Hanson Forsyth has worked in the arts for over 20 years with experience curating exhibitions and managing collections. Her career spans fine art, decorative art, folk art, design, and craft, with a special interest in late 19th and 20th century craft and design. A lifelong lover of history, she is always drawn to the stories and cultural conditions behind the art. In 2019, she curated Crafting Opportunity: Mid-Century Work from the Collection of Mingei International Museum at the Central Library Art Gallery.
Mingei International Museum, located in the heart of Balboa Park, is dedicated to furthering the understanding of folk art, craft and design. The museum aims to inspire people to celebrate human creativity and recognize, embrace and cultivate their own creativity through an inviting, fresh, and always engaging look at a diverse range of thoughtfully designed, crafted and passionately made objects from around the world. The Museum recently embarked on a major building transformation and will reopen in 2021. Mingei is the presenting sponsor for San Diego Design Week.