About the Talk
Recent growth within the food & beverage industries of craft beer and juiceries have led to incredible innovations and billions in profit. Yet, as with almost all things American, access to and representation within these markets are stratified by race. Black and brown entrepreneurs and influencers often face more hurdles to entry and smaller pieces of the pie.

In this intimate discussion you will hear from San Diego industry leaders committed to centering and serving diverse communities. We will discuss roadblocks to access and ownership and explore what equity looks like in the food, beverage, and restaurant industry.

Discussion Participants:

Loren Cobbs. Loren is a Culture Curator, Brand Specialist, and Diversity & Inclusion Champion. As the founder of CRATE Agency, which houses the brands SD Melanin and Culture Plus Cuisine, Loren has designed over 150 events serving 15,000+ diverse professionals.

Chef Quinnton Austin. Chef Quinnton, aka Chef Q, is a professionally trained chef, with a background in fine dining, and co-owner of Louisiana Purchase. Making the trek from New Orleans to San Diego, Chef Quinnton brings a diverse, Southern flare to the local dining scene. He stays true to a self-imposed commitment to treat food as art and to bring bold creativity to every dish.

Brandon Montgomery. Brandon is a world traveling, craft beer enthusiast that has devoted himself to learning culture through every pint. He's a Cicerone Certified Beer Server and Recognized Beer Judge showcasing the diversity in craft. Through his Black Beer Travelers brand, he facilitates events across the US with the goal of introducing new customers to the world of craft, while highlighting minority ownership.

Joshlyn Turner. Joshlyn is the CEO and owner of The Write Juice and The Write Fit. As lead juicer at The Write Juice, a mobile smoothie and juice truck that serves Southern California, Joshlyn brings nutritionist options to diverse SD communities. Joshlyn is committed to depositing hope and planting a seed into the generation of tomorrow.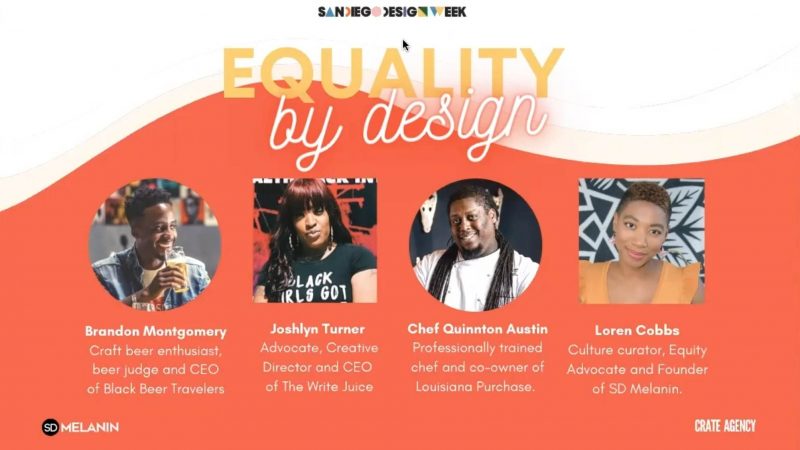 VIDEO: Equality by Design: Food & Drink
This talk was presented live September 12, 2020.
About SD Melanin
At SD Melanin, we are culture curators committed to creating experiences and events that center young, Black professionals and other POC. We are the largest community of our kind in San Diego, serving more than 10,000 members. Our mission is to recreate the entertainment, hospitality, and creative landscape to one that truly welcomes and serves people of color as the prototype versus as a by-product.