About the Tour
Curated by Turista Libre's Derrik Chinn to compliment his SDDW talk "When Corners Collide: Decoding the Contrasting Aesthetics of San Diego and Tijuana," this tour takes you to some of the homegrown "like a local" tourism initiative's favorite spots for art and design immediately south of the border: museums, galleries, boutiques, mural clusters, iconic architecture, unforgettable eats and drinks and a stylish place to crash for the night, if you choose to do so. You'll need wheels to do the entire tour, but if you'd rather sit back, relax and leave the driving (and the translating) to a local, Turista Libre also offers this itinerary as a private tour for groups of two to 20.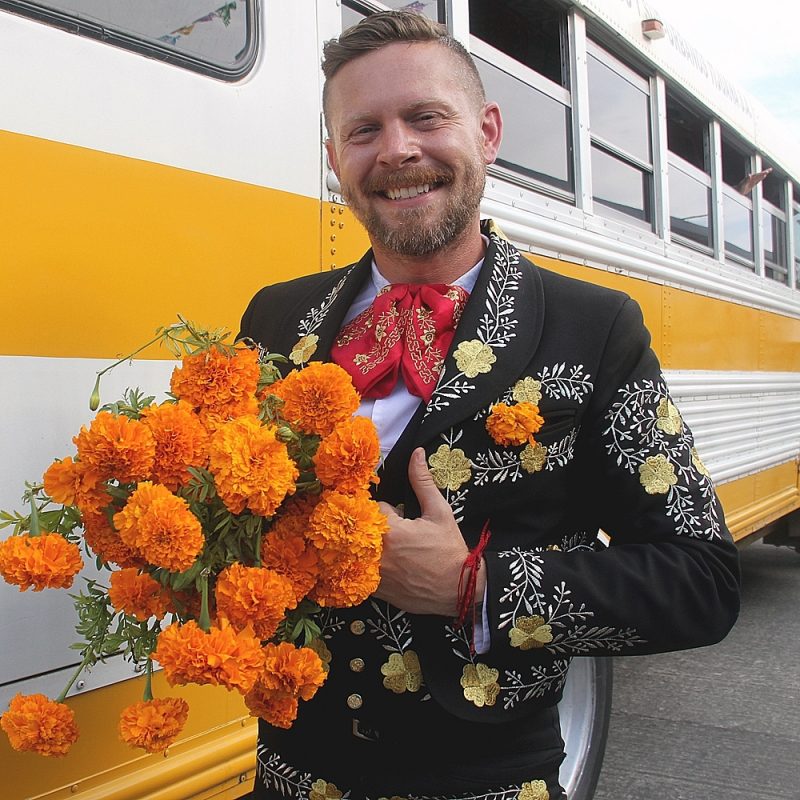 Casa de las Ideas
Nearly a decade ago, what was once one of Tijuana's most impoverished, violent and flood-prone colonias – Camino Verde – metamorphosed itself by way of a government initiative that organized community members to build soccer fields, skate ramps, basketball courts and playgrounds. Into the center of it all went "Casa de las Ideas," the "House of Ideas," a digital library and community center designed by CROstudio's Adriana Cuellar and Marcel Sánchez, who received the 60th Annual Progressive Architecture Award shortly after the building's completion in 2012.
Derrik says: This isn't to say that Camino Verde is now miraculously free of all the problems it had before, but it's come a long way. The execution of the project was undeniably fueled by a sense of community empowerment that residents had never experienced before. At least not here. Allowing them to have an active hand in the entire process from start to finish means that the finished product is now theirs to care for. Together. And care for it they do. When you go, try to step back a bit and take in the scene – the homes constructed out of garage doors and other scrap material, the mounds of washed-up trash in the river canal – and imagine it all without Casa de las Ideas and all the other public facilities that now make up Camino Verde's heart and soul.
Centro Cultural Tijuana
Better known by its acronym "Cecut" (say-coot) since it opened in the early 1980s, the city's cultural center houses three fine-art galleries collectively known as "El Cubo" (The Cube), a 200-seat cinema that screens foreign and independent films, an aquarium and botanical garden and "El Museo de las Californias" (The Museum of the Californias), a permanent exhibit dedicated to both states' shared history, both before and after they became divided by an international border. Also on site is a spherical IMAX theater, undeniably one of Tijuana's most placeable and postcardable pieces of architecture, "La Bola" (The Ball). cecut.gob.mx.
Derrik says: This is our lone "formal" hub for the arts in Tijuana, and much like the city itself, it's grown in leaps and bounds in its short history. The most recent addition was El Cubo in 2008, which ranks among the most important contemporary art museums in the northern Mexico, second only to Museo de Arte Contemporáneo (MARCO) in Monterrey. Something to keep in mind when you visit, before the '80s, everything you're seeing around you in the streets of Zona Rio – the chaotic roundabouts, the massive statues, the office towers and shopping centers, even this museum itself – was all dirt. In those days, Tijuana lacked architecture or monuments that were nationally recognizable, a factor that played a major role in the choosing of the now iconic "La Bola" as part of the center's design. Give yourself a good two hours if you hope to see all the exhibits in both the original wings and El Cubo. Be sure to check out the bookstores and gift shops (there are a few altogether); collectively these are my go-to spot for works by local authors. And if you happen to be hungry, El Cubo's bistro is Cecut's newest add-on and a sleek showcase for Baja Californian cooking.
Cross Border Xpress
An often-utilized but equally overlooked local architectural gem was designed in part by Mexican architect Ricardo Legorreta, his last project before passing away in 2011. Better known by its acronym, CBX is a 390-foot pedestrian bridge that connects Tijuana International Airport to a satellite terminal on the US side of the border, making it among the handful of binational airports in the world and the first building to connect the United States to a foreign airport. It's safe to say its function overshadows its form, as it allows US-bound travelers access to an immensely easier border-crossing process after having landed, rather than having to grab a cab to the nearby San Ysidro and Otay Mesa ports of entry where crossing times are a crapshoot and waits can be anywhere from five minutes to four or more hours. From TIJ, travelers are connected to some 30 destinations within Mexico and Central America via Aeroméxico, Interjet, VivaAerobús and Volaris, and up until just before the pandemic, nonstop service to Beijing via Hainan.
Derrik says: Even though you won't be able to actually go in the pedestrian bridge – not on this tour anyway, since CBX is for ticketed passengers only – just pulling over on the side of the road outside the airport, whose front doors are some 100 steps or so from the border fence, makes for an impactful few minutes in the understanding of borders, their construction and their surreality. CBX opened in 2016, during the US presidential election campaign season as all the "build the wall" rhetoric really began to make headlines, despite the fact that the people of Tijuana have lived with some sort of border barrier for decades. But the mere placement of the airport here in the shadow of the border in the 1950s, some 70 years before the addition of CBX, was symbolic of Tijuana's identity as a border city to begin with. Now we're home to a bridge whose height literally trumps (pardon the pun) that of the border fence, and for me it's a scene that really paints the saying: Build bridges, not walls.
Culinary Art School
Housed in a minimalist structure that emphasizes the simplistic beauty of natural elements via its use of wood, glass and oxidized iron – the trademark style of famed Tijuana architect Jorge Gracia – this would-be gastronomic Bauhaus draws aspiring chefs from all corners of Mexico and beyond, thanks much in part to the city's ever-expanding reputation as an eclectic, innovative hotbed for all that's edible. The school also offers various differently themed day courses for "aficionados" (aka amateurs such as yours truly) like pan dulce, craft cocktails, veggie tacos, moles, salsas, burgers, crepes, croissants and more.

Derrik says: Not only is it inspiring to see our next batch of star chefs in the process of becoming just that, the school brings an immediate dosage of design therapy as soon as you step off the street. It's an understatement to say I'm sure I could learn a thing or two whenever I visit but usually wind up lost in some greedy fantasy of moving everyone out and making the place my dream home come true. The reception staff is extremely kind, to say the least, and if their schedule permits they're happy to give a quick impromptu tour.
Escuela Libre de Arquitectura
Founded by Tijuana architect Jorge Gracia, Free School of Architecture is just that. Free. Not in a monetary sense (that would make it gratis, not libre) but in its nonconventional, hands-on approach to teaching, with the intent of sowing a new generation of homegrown architects by way of experiential learning in real-life situations. Liberated, so to speak. Coincidentally located at the intersection of the physical embodiment of two of Tijuana's most notorious stereotypes, Avenida Revolución (fun-loving tourist trap) and Calle Coahuila (fun-loving, X-rated tourist trap), both with their fair share of architectural eyesores, Escuela Libre channels the majority of its coursework to actual job sites around the city and in the surrounding region, making it the first and only school of its kind in Baja California.
Derrik says: Tijuana for the most part has always looked elsewhere for its architectural inspiration, usually somewhere north of the border like San Diego, Los Angeles or even somewhere as random as St. Louis (you can't miss the Gateway Arch knockoff that straddles Avenida Revolución, the "Reloj Monumental" or Monumental Clock) or somewhere way, way south like Mexico City. The result is a hodgepodge of styles and influences that span multiple decades, often caught in some state of decay, demolition or repurposing, which no doubt adds to the city's odd charm. It's a complicated scenario, one that you almost have to live on a daily basis to truly understand before you even begin to reimagine as an architect would. Enter ELA – open since 2014 – which is doing something that no other school ever has here before, and that is to mold new architects from Tijuana in Tijuana for Tijuana.
Galería La Caja
One of Tijuana's few privately owned and operated – and still surviving – art galleries is actually an old warehouse that in 2010 owner Arturo Rodríguez converted into a chic display case for a solid roster of local talent. Its name, "The Box," is quite literal, as once you step in, the fortified space aids in allowing visitors to disconnect from all the border city's constant hustle and bustle just outside, allowing one to enjoy the art with a clean sensorial palette. La Caja also serves as an academic extension, offering to locals accessibly priced courses and workshops like hyperrealism painting, utilitarian ceramics and sculpture for children.
Derrik says: Tijuana's complex geopolitical context inspires a lot of amazing artists. One of my favorites is Jaime Ruíz Otis, who repurposes industrial leftovers from Tijuana's many maquiladoras (factory dumpster diving, essentially) like discarded barcode labels into dramatic desolate landscapes or rectangular orange and red car reflectors into wall sculptures. Sadly, there aren't many local collectors with the desire and the funds to buy their work, which makes it nearly impossible for most private art galleries to stay afloat for long. La Caja has survived and thrived by not only carefully selecting its client base from other parts of Mexico and abroad but by also supplementing sales with its classes, workshops and the occasional lavish dinner party featuring local chefs and live music.
Minarete Aguacaliente
A mix of Mexican colonial, California mission and neo-Islamic designs, the minaret was designed by 19-year-old San Diego architect Wayne McAllister and built in 1930 – making it one of the oldest structures in Tijuana – to serve as the furnace chimney at Agua Caliente Hotel and Casino, a popular tourist attraction during the years of Prohibition north of the border that now houses the city's largest high school, Preparatoria Federal Lázaro Cárdenas.
Derrik says: As it's located on school property, you won't be able to access the minaret at its base. But you can see it fairly well from the parking lot of the adjacent Sam's Club. Don't miss out on Tepoznieves in the far corner of the same plaza, house of more than 80 flavors of artisan ice cream, which range from the classic (chocolate and vanilla) to the exotic (tequila and prickly pear) to the bizarre (corn and cheese).
Object
Hands down one of the chicest boutiques in Tijuana and without a doubt the only of its kind in the city, the entire stock serves as a concise, on-point portfolio of all that is modern Mexican design. Every piece pertaining to the some 45 brands owner Veronica Hernández stocks, be it home goods, clothing, jewelry or kids' toys, is a contemporary take on traditional Mexican artisan work, making Object a one-stop shop for souvenirs that – unlike all the NFL ponchos and Minion piggy banks that you'll find in other tiendas around town – will never wind up in the garage or garbage.

Derrik says: Every time I step in this place, I never fail to fall in love with something – or 10 or so somethings – that I wish I could take home right then and there. Pop-print ponchos, ceramic mezcaleros, lava rock salseros, cufflinks in the shape of moths, lamps, leather bags, dolls, games ... It's literally a walk-in lookbook for both well-established and up-and-coming designers from all over Mexico, and I'm so thankful that a shop such as this exists all the way up here on the border.
One Bunk Tijuana
Like any major city around the world, Tijuana has its fair share of major international brand hotels – Marriott, Hyatt, etc. – perfectly standard and on par for most anyone traveling on business or with family. But in the words of One Bunk, we'd prefer you to "stay where there's a story." Born in San Diego but with a strong, unapologetically bi-border presence, in the mid-2010s One Bunk revitalized one of the many all-but-forgotten no-tell hotels along main tourist drag Avenida Revolución, restocking it with stylish new bedding, bathrooms and such but leaving in tact as much of the original mid-century charm as possible, a mix that so eloquently encapsulates the Tijuana vibe. When it comes time to crash, you'll have your choice of queen, twins or – just like the name suggests – bunks.
Derrik says: I can't remember the last time I slept in a bunkbed. I'm pretty sure I was wearing Thundercats pajamas. But if I had to do it again, it would be here (with or without the pajamas). Attention to detail is through the roof but also keeps true to downtown Tijuana's history and rather than slap a bunch of plaster and paint over its naturally kinda-rough-around-the-edges vintage aesthetic, the concept at One Bunk actually fine-tunes all that into something stylish and hospitable. Smile wide for the customary Polaroid upon check-in, and be sure to throw on one of the vinyls in the common area lobby before checking out. Fun fact: Tijuana's oldest taquería – La Especial, open since 1952 (the same year that Baja California became a state) – is just downstairs.

Playas de Tijuana boardwalk and border fence
This, the northwestern corner of all of Latin America where the US border fence trails into the Pacific some 100 yards or so depending on the tide, is perhaps in itself one of the most surreal sights to see on the face of the Earth. Especially on a clear day, when the San Diego skyline is visible some 20 miles to the north. A desolate, heavily patrolled wetland reserve lies on the US side of the border, but the Mexico side of the fence doubles as a public canvas for some of the most impressive and iconic (albeit impermanent) urban art in Tijuana and the starting point for a wood-plank beachfront boardwalk, a favorite among locals that's also lined with murals and art installations as well as restaurants and cafes. Friends of Friendship Park.
Derrik says: Back in the early '70s, this was intended to be a binational park, a place for friends and family to gather at the beach right at the border without having to leave their respective countries. First Lady Pat Nixon came to cut the ribbon and apparently had Secret Service agents pull back a bit of barbed wire – which was all that separated the two countries back then – so that she could shake hands with those who had gathered on the Mexico side. Since then Friendship Park has become a bittersweet place, to say the least, as loved ones separated by the border are now only able to meet 10 am-2 pm Saturdays and Sundays. And even then, they're separated by rusted metal mesh and those visiting the park on the US side are supervised by CBP officers at all times. You'll also find an immensely important but so often overlooked piece of history, Border Monument 258. One of the 276 that were placed along the newly drawn border after the Mexican-American War in the late-1800s, it stands literally half in the US and half in Mexico. It can come as a lot to take in all at once, but all politics aside, coming to see the literal corner of Latin America is a quintessential Tijuana experience. Save some time for churro therapy on the boardwalk después.
Telefónica Gastro Park
Being a city with a world-famous culinary academy, Tijuana churns out its fair share of skilled chefs. You'll find many of them at this funky food truck collective named after the nearby telephone headquarters, where the menu ranges from mariscos, mole sausages and ramen to vegan tacos, gyros and plenty of Mexican classics like enchiladas, tortas de cochinita pibil, chilaquiles, quesabirria and more. Telefónica is also home to Lírica, one of Tijuana's some three dozen craft breweries whose English Brown and Double IPA won gold and silver, respectively, at last year's Expo Cerveza México.

Derrik says: Stationary food truck parks like this have become a definite trend in Tijuana over the past few years, and like any trend, some pull it off better than others. But this is the only one that brews its own beer on site. This is actually Telefónica's new location; the original was a couple blocks away in what was once upon a time owner Antonio Gamboa's grandma's old house and front yard where he'd spend weekends and summers as a kid. They outgrew that space just a few years after opening, and after you have a few bites of whatever you wind up ordering from any of the some dozen stands, it's easy to understand why.
Tijuana Tercer Milenio
In honor of Tijuana's centennial in 1989, local sculptor Armando Muñoz Garcia decided to give the city a birthday gift literally larger than life: a 55-foot concrete and fiberglass statue of a nude woman. Titled "Tijuana Third Millennium" (although everyone here calls her "La Mona," Mexican Spanish for "The Doll," she's undeniably since become a local pop culture icon. Set in a canyon neighborhood just south of Tijuana's international airport, her body represents Mexico, with her right arm stretched toward the sky to symbolize the state of Baja California and her right pinky finger extended to represent Tijuana's location in Mexico. One leg is slightly bent to suggest she's taking her first step, symbolizing Tijuana's young age compared to the rest of the country. Her left hand covers her heart, a gesture of patriotism. And her nudity? Says Muñoz: "Like Tijuana, she hides nothing."
Derrik says: Muñoz Garcia had originally approached city hall for public land and funding for the project, who essentially blew him off. Unabashed, he instead decided to build her in his own backyard. Which is so fitting because Tijuana is a DIY kind of place to begin with, for better or for worse ... or somewhere in between. If you do happen to visit and meet Muñoz, please consider making a donation, as we always do as part of our tours, to help with La Mona's upkeep. And that usually does the trick to get you up into the small room in her chest where there's a window for you to peek out for the selfie of a lifetime. But good luck getting him to tell you about the model.
Turista Libre Mexico Tours meeting spot
Unless otherwise noted, Turista Libre treks in Tijuana and Baja California meet their guide on the U.S. side of the Pedwest pedestrian border crossing at the Virginia Avenue Transit Center (499 Virginia Avenue, San Ysidro, CA 92173). Find tour rates and more information.
Derrik says: San Ysidro has two pedestrian border crossings within walking distance of each other, one on either side of the I-5/805 merge. Pedwest, which is where our tours usually meet just across the street from the Las Americas outlet mall, is currently closed because of the pandemic. Pedeast, just south of the San Ysidro Transit Center, is open, however. Please note, northbound pedestrian border waits (crossing into the US from Tijuana) are atypically lengthy these days — often three to four hours, especially earlier in the day — so be sure to plan accordingly.
About Turista Libre
Founded in 2009, Turista Libre ("Free Tourist") is a day-trip company that seeks to culturally destigmatize Tijuana, the surrounding Baja California region and all the way down to Mexico City by ushering foreigners to an array of sights and experiences typically reserved for locals. Founder Derrik Chinn calls Tijuana "a mecca of otherworldliness and humble innovation," adding, "beneath the heavy veil of corruption and violence, the spirit of Tijuana mesmerizes and inspires." He is a former staff writer for The San Diego Union-Tribune, where he covered arts and entertainment from 2006 to 2010.