Explore the tour
Join us as we hear from Darren Bradley as he shares his passion for mid-century modern architecture and design. Accompanying his online discussion, Darren has shared a sampling of his vast image library and stories ranging from the unknown nuances of the region to the history of the structures, and the architects and developers behind them. Join for this self-guided tour to discover and reimagine the beauty of mid-century modern design.

East County
There are many beautiful mid-century modern homes on and around Mt. Helix and the area surrounding SDSU (where many professors built homes in the post-war period). But many are difficult to see from the street. Still, neighborhoods like Mt. Helix and Del Cerro are worth exploring. Beyond these, there are many churches in this part of the county that are well worth exploring for their innovative designs and dramatic beauty. Here are a few examples.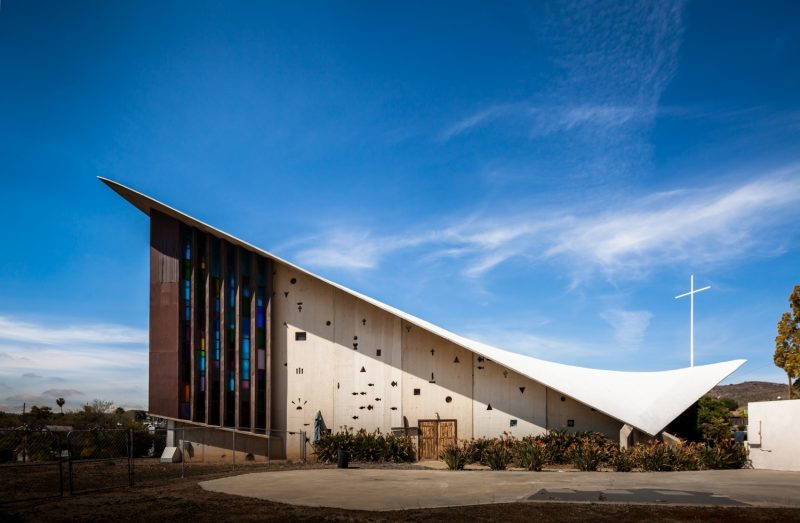 Carlton Hills Lutheran Church
Robert des Lauriers, 1959
9735 Halbers Blvd, Santee, CA 92071

The dramatic parabolic roofline of this church contrasts sharply with the houses in the surrounding neighborhood. This project won a national architecture award in 1959, solidifying architect Robert des Laurier's position as "Mr. Church" for his innovative designs, which he would continue to create throughout the county for decades to come. The thick concrete walls with stained glass insets were directly inspired by Le Corbusier's design for the chapel at Ronchamps.

Trinity Church
Culver Heaton, 1961
3902 Kenwood Drive, Spring Valley, CA 91977
The A-Frame design is a natural fit for churches, as it allows for a soaring cathedral ceiling and lots of light. This one stands out due to its use of blue stained glass disks, which were handmade in Belgium. The disks give it a bit of a Googie space-age feel, and flood the interior in blue light.

Mission Valley
This part of town was farmland that was prone to flooding until the 1950s, when the first interstate (now called Interstate 8) reached San Diego. An entire system of flood controls were promised with the construction of the interstate (they never happened - the area still floods during heavy rainfall), which created a construction boom in the post-War period. The area became host to the first regional shopping mall (Mission Valley Centre), as well as many space-age movie theaters and other buildings. At one time, nearly every building in this part of town was a gleaming example of mid-century modern design. Today, much of that legacy has been erased, but there are still a few nice examples.

First United Methodist Church
Reginald Inwood, 1960
2111 Camino del Rio South
San Diego, CA 92108
You've probably driven past this church on the hill overlooking the freeway hundreds of times. Its dramatic curved roofline and ivory color are certainly easy to spot. But the real treat is inside, where you are treated to a beautiful light show from the golden stained glass windows in the late afternoon.

Bill Lewis / AC Martin (1961)
1640 Camino del Rio North
San Diego, CA 92108
The last intact section of San Diego's first regional mall. The patterned concrete tiles on the facade give the building a different look as the sun moves across the sky throughout the day. The elevated glass box with the zig-zag accordion roofline was once the department store's restaurant. The store was shuttered last year as part of the latest round of Macy's store closures, and now awaits its fate.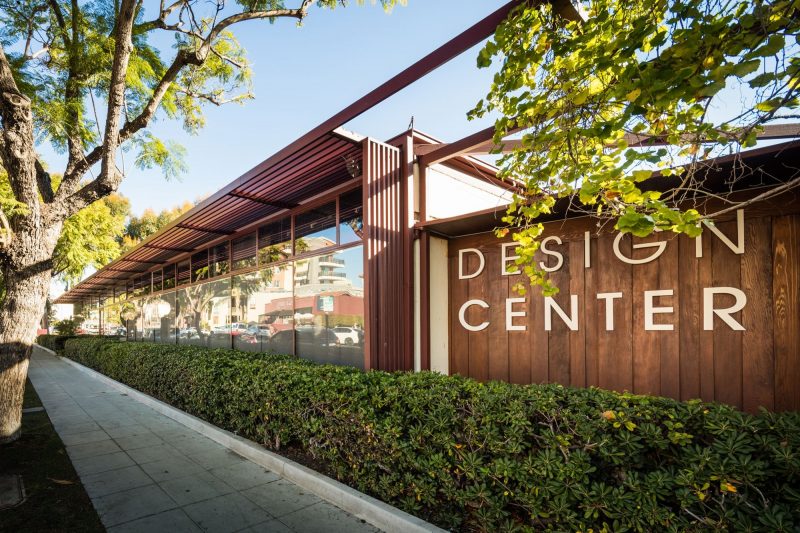 Fifth Avenue Design Center
Lloyd Ruocco, 1949
Ruocco was once San Diego's most celebrated Modernist architect. His design center was an innovative concept, allowing not only himself, but other local architects to share resources such as draftsmen and administrative support in a sort of communal fashion. The building itself is a beautiful organic modernist structure inspired by Japanese architecture, and is best experienced by peaking around the back side.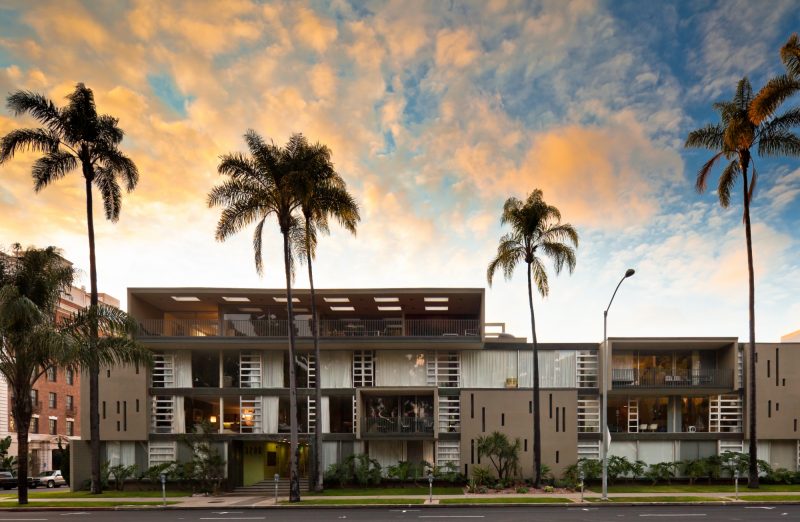 Salomon Apartments
Henry Hester, 1959
3200 Sixth Avenue
San Diego, CA 92103

Colonel Salomon was an industrialist who became a diplomat, who wanted to live in the penthouse of an apartment building in San Diego that would rival anything you'd find in larger American cities such as Chicago and New York City. So he commissioned architect Henry Hester to design it for him. Located just across the street from Balboa Park, this building once hosted glamorous parties with lots of celebrities and dignitaries. It was beautifully restored about ten years ago, and is one of San Diego's best examples of 1950s modern International-style architecture.

Point Loma
Point Loma is known for its military presence and traditional mansions, but it also enjoyed quite a bit of development in the post-War period - particularly in the Loma Portal area and around the Sports Arena.

Loma Starr Building
William Krisel, 1960
3065 Rosecrans Street
San Diego, CA 92110
LA-based Krisel once led one of the largest architecture firms in the country, and designed more homes in San Diego than any other architect (even to this day). He designed this building adjacent to Liberty Station to serve as the local San Diego office of his firm, Palmer & Krisel. The original-style signage and building name was recently restored to the building.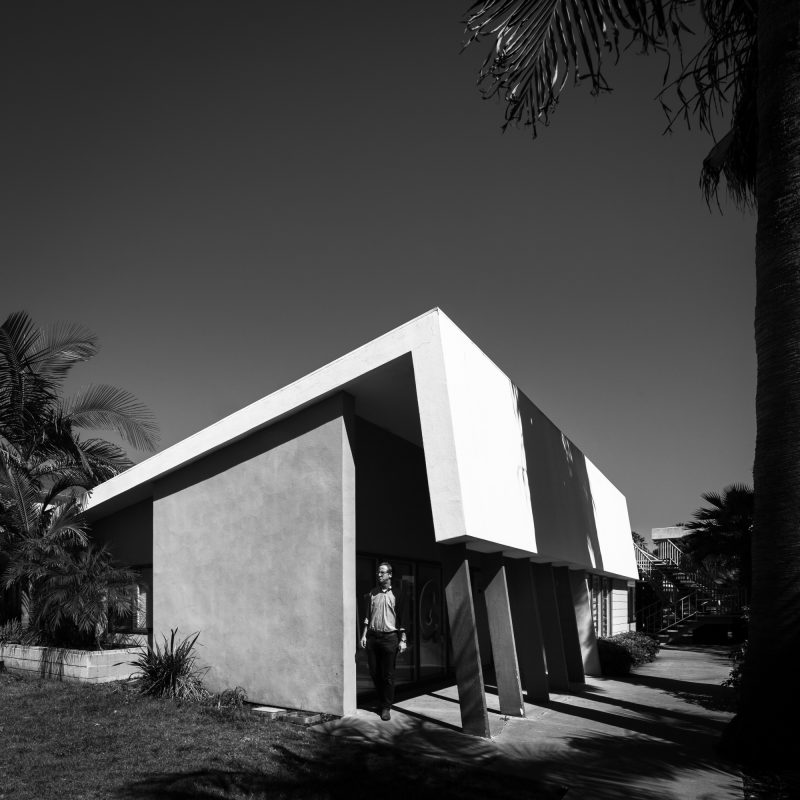 Horizon House
Richard Wheeler, 1958
3276 Rosecrans Street
San Diego, CA 92110

Another prominent Point Loma architect, Wheeler had his office located in this building. This building once also had a dramatic circular building on one side that has since been demolished.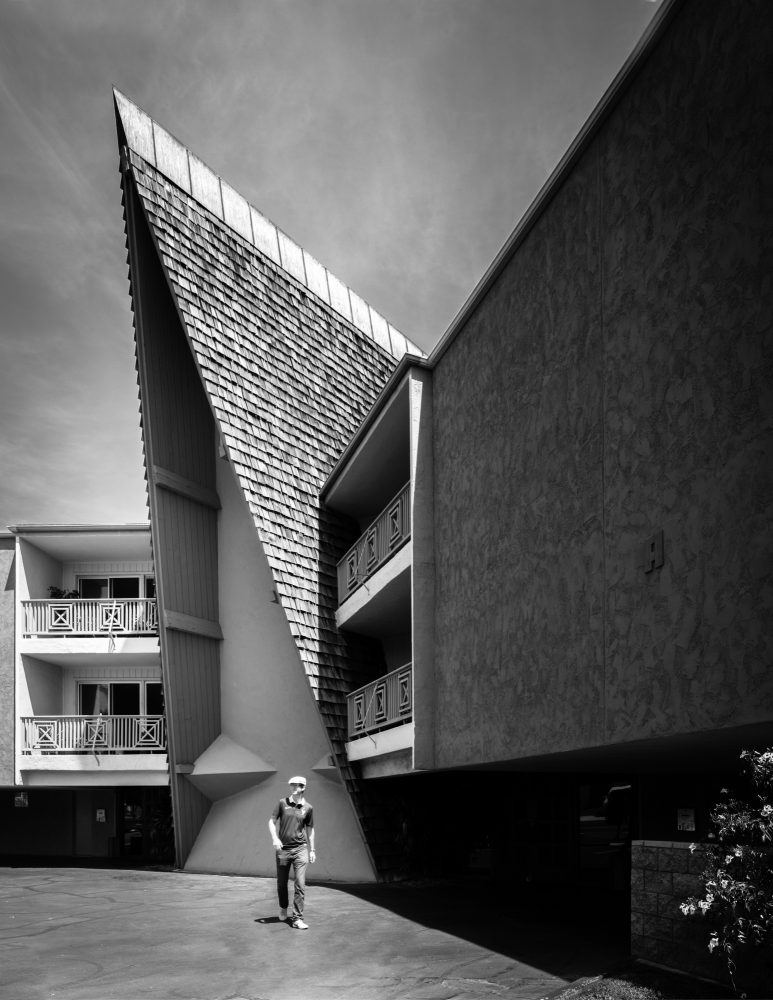 Halemaki Apartments (now Point Loma Villas)
Architect unknown, 1965
4444 West Point Loma Blvd.
San Diego, CA 92110
Tiki was once a popular theme for apartments, promising a resort-like experience year-round. While the name has changed, these condos are largely intact, and the pool house that serves as the main lobby (with the pool that actually goes inside the building) hint at the kind of epic parties that once likely took place there.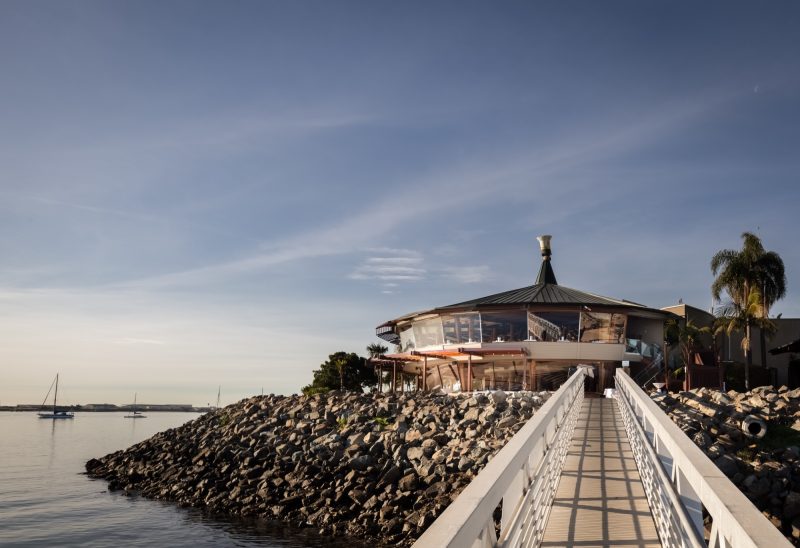 Bali Hai Restaurant
Raymond Frazier, 1955
2230 Shelter Island Drive
San Diego, CA 92106
Shelter Island was designed from the outset as a Polynesian oasis, designed to entice those transiting our city en route to Hawaii to stay in San Diego instead. Despite losing several major landmarks over the years, Shelter Island remains the world's largest concentration of Tiki architecture. Bali Hai hosts an annual Tiki Oasis festival, which brings in thousands of enthusiasts from around the world. The late architect Graham Downes did a sensitive remodel of the Bali Hai restaurant a few years ago, and the place continues to serve as an anchor for this historic neighborhood.

Spec Houses
John Reed and Sim Bruce Richards
Nimitz, Gage, Bangor and Albatross Streets
Sim Bruce Richards was a Taliesin fellow (Frank Lloyd Wright), and worked closely with fellow architect John Reed to design a cluster of organic modernist homes in Point Loma. Richards lived in several of these homes himself, grouped around Albatross Street.

La Jolla
Up until the 1960s, La Jolla was known as an idyllic seaside resort town and a bastion of old money. But this community has a dark side, as racial and religious minorities were generally unwelcome through bans enforced in its housing covenants. An influx of artists, researchers, and university professors brought in by such institutions such as the Art Center, UCSD, and the Salk Institute, slowly forced La Jolla to open up and abandon its once segregationist housing policies. By the mid-1960s, La Jolla was rapidly changing to become a progressive community with a diverse population and a lot of Modernist architecture.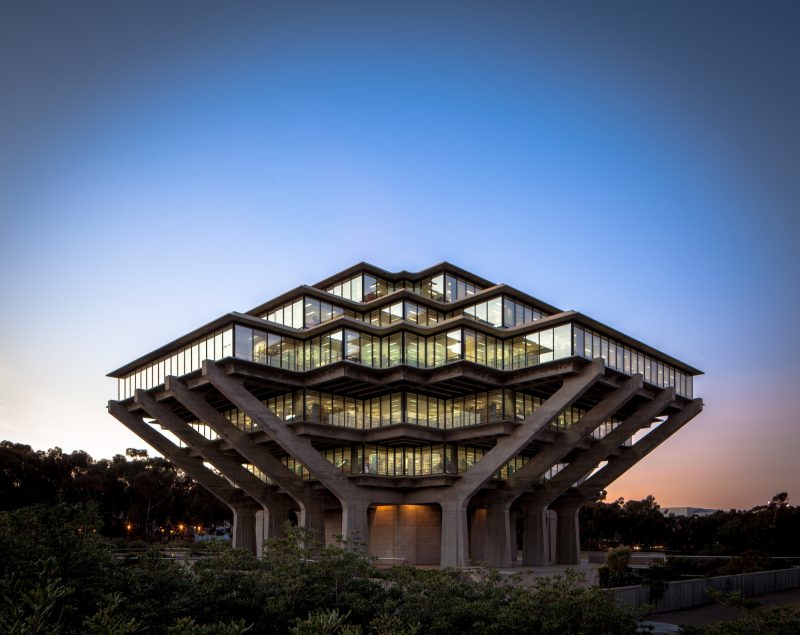 Geisel Library, UCSD
William Pereira & Associates, 1970
This iconic Brutalist building is the symbol of UCSD and continues to serve as the main library. It truly must be seen in person to experience its massive scale and impressive cantilevered structure. UCSD is host to an incredible collection of Modernist architecture, particularly in the original parts of the campus (Revelle and Muir Colleges). Highly recommend taking the time to visit all of these buildings. It was the arrival of UCSD in 1960 which forced this once notoriously closed community to open up.

Salk Institute
Louis Kahn with Luis Barragan (1963)
This building needs no introduction, as it is unquestioningly San Diego's most famous building. Despite this, it was largely ignored by most residents until fairly recently and was usually empty, save for the researchers. It was open to anyone who cared to walk in and around, and even the labs were accessible to anyone brave enough to wander inside. But Instagram changed all that, as more and more crowds of people started showing up to take selfies and pushing the limits. This has led to a severe crackdown where visitors must first register and pay a fee, and are strictly limited to the central courtyard now. With COVID, the entire campus is closed to visitors, currently.

IGPP Building at Scripps Institute of Oceanography / UCSD
Lloyd Ruocco, 1963
8602 La Jolla Shores Drive
La Jolla, CA 92037
More Japanese-inspired organic Modernism from San Diego's resident master. This building is perched on the edge of a cliff, which makes it even more dramatic. One of my favorite buildings in San Diego. Be sure to visit the terrace overlooking the beach on the cliff side. Scripps was founded well before UCSD, and is host to a number of Modernist structures, including one of the first Modernist buildings by Irving Gill. Also don't miss the amazing brutalist building by Liebhardt and Weston which was previously the library.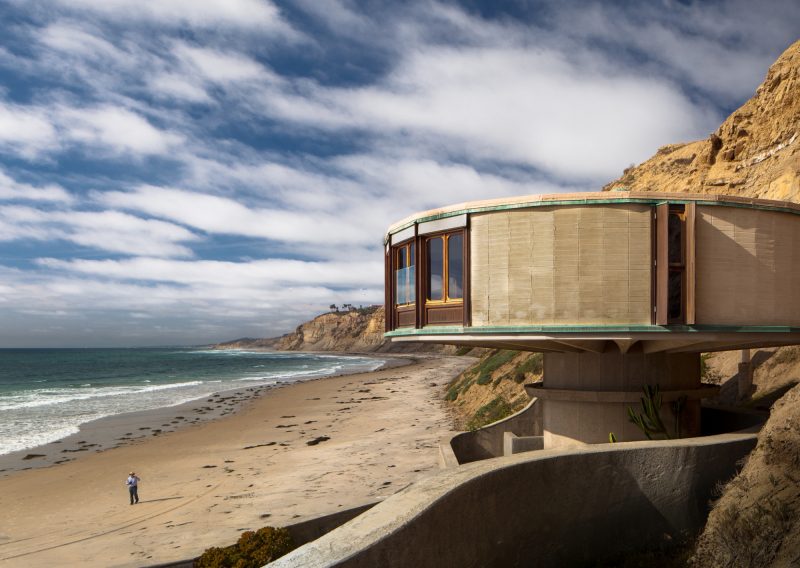 Bell Beach Pavilion
Dale Naegle, 1968
Often referred to as the "Mushroom House", this cantilevered concrete structure sits at the base of a cliff directly on Black's Beach. It looks like something you'd see in a James Bond movie. This is the beach house for a larger residence, connected by a funicular. The unstable cliffs recently damaged the funicular and it's being repaired.

Triad Houses (Case Study Houses)
Rue de Anne, La Jolla, CA 92037

Most of the famed Arts & Architecture Case Study Homes are located in Los Angeles. But La Jolla plays host to three of them, designed by Long Beach architect Edward Killingsworth. These three homes, known as the Triad Houses, were intended as models for a large tract development that never materialized. Today, two of the three are largely intact.


Real Estate Brokers Association (REBA) Building
Henry Hester, 1963
908 Kline Street, La Jolla, CA 92037
One of my favorite buildings in La Jolla, this little jewel box of a building is exquisitely detailed with beautiful marble and an intimate courtyard. That glass picture window frames a perfect conference room looking out at an olive tree.

About Darren Bradley
Darren Bradley is a San Diego-based architectural photographer, author, and historian with a passion for mid-century modern architecture and design. His work has appeared in large-format art books, academic and professional architecture journals, and lifestyle magazines around the world. He regularly accepts commissions from architects, builders, developers and homeowners.