Explore the Tour
Explore a new side to San Diego's beloved Balboa Park with a self guided tour of the park. This outdoor excursion will help discover some of the park's tightly-packed history and highlight its landscape design and architecture. The tour also celebrates the designers and other significant people who have contributed to the park's design history. Due to the size of Balboa Park, this tour will be split into three segments based on the park's geographic areas — West Mesa, Central Mesa, and East Mesa. Enjoy these self-guided tours one at a time or combine all three into a single trip. Participants are encouraged to bring a picnic and bask in the beauty of one of the most unique public urban parks in the country.
Also visit:
Public Spaces by Design: Balboa Park Central
Public Spaces by Design: Balboa Park West


Photos by Calvin Woo and Susan Merritt
____________________________________________
East Mesa, the park's sports and recreational hub
The East Mesa, the park's sports and recreational hub, extends from the eastern edge of Florida Canyon to 28th Street to the west, and sits between Upas Street to the north and Russ Street to the south. The East Mesa is surrounded by North Park, South Park, and Golden Hill, historic neighborhoods that host an assortment of period architecture including Victorian, Spanish Revival, and Craftsman bungalows. Most of the East Mesa is dominated by the Balboa Park Golf Course with Morley Field Sports Complex to the north and Golden Hill Park, Golden Hill Recreation Center, and Bennington Memorial Oak Grove to the south. The various parts of East Mesa aren't directly connected to each other by pedestrian walkways like the West and Central Mesas so vehicular transportation is necessary. We'll review each of the enclaves one at a time beginning in the south with Golden Hill Park, a nice picnic spot with telephoto-lens views of downtown and the high- and low-ground of the East Mesa.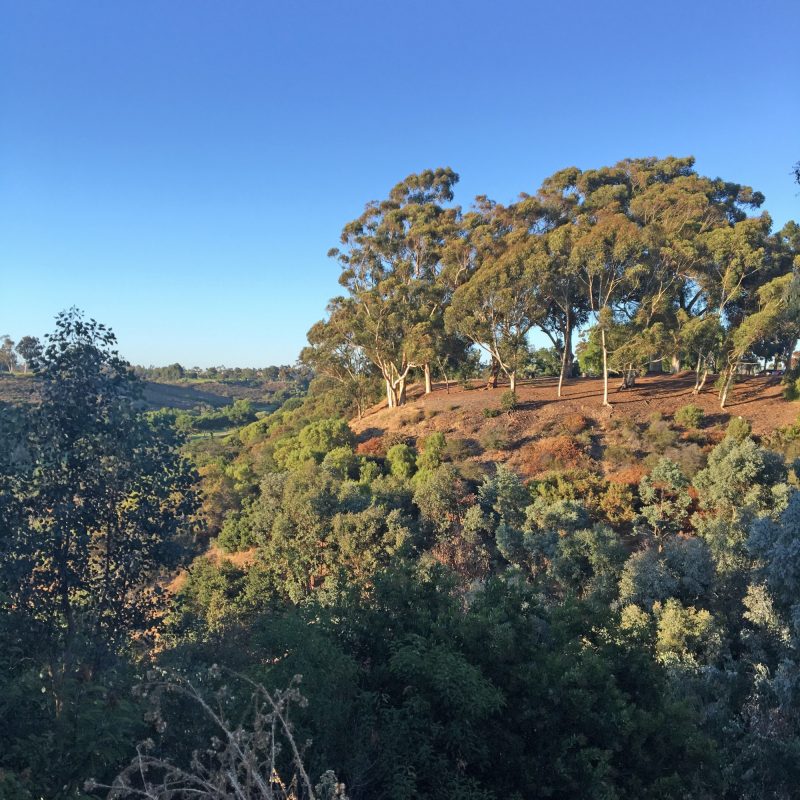 Bring a Picnic
Pack lunch or order takeout from a nearby restaurant. One of my favorite spots in South Park is Eclipse Chocolate Bar, Bistro & Bodega. Owner and Chef William Gustwiller offers a varied menu with fare that could easily be packed for a picnic. Don't miss their selection of unique drinking chocolates made from their own handcrafted chocolate. I like mine topped off with their homemade marshmallows! A great warm up after a fast-paced walk in the park on a brisk morning. And any other time of day or night.
Save Room for Dessert!
After your park excursion, stop by either the Bankers Hill or Little Italy location of Extraordinary Desserts, which, believe me, lives up to its name. On Thursday, September 10, and Friday, September 11, mention San Diego Design Week (SDDW) and get 20% off one of the featured Pavlova desserts, a crisp baked meringue filled with Devonshire cream and fresh berries. Both locations were designed by the extraordinary architect Jennifer Luce of Luce Et Studio who will discuss her collaboration with owner and extraordinary pastry chef Karen Krasne in The Architecture of the Pavlova during SDDW.
START AT THE GOLDEN HILL PARK GATEWAY SIGN
Directions:
Take Florida Drive to 26th Street and turn right onto Golden Hill Drive just before the Golden Hill community gateway sign, which was designed by CWA, Inc. Or take 25th Street that runs directly into the park and intersects with Golden Hill Drive.

Let's begin at the Balboa Park Trails Golden Hill gateway sign at 25th Street and Russ Boulevard. It's the same type of sign that orients visitors at each of the park's main access points. You'll find another one on the East Mesa at the entrance to Morley Field. All of these signs are part of a comprehensive sign system developed by Stuart White Design and adopted by the City of San Diego in 1992. RSM Design of San Clemente has been working over the past couple of years in collaboration with the Balboa Park Conservancy on an update to this system, but to the best of my knowledge at the time of this writing none of the new signs has been installed.

One thing is for sure, you'll find fewer signs in the East Mesa and different sign types that don't adhere to the original signage guidelines laid out by White. Signage in this portion of the park utilizes stone structures that convey a more rustic character. Is this by design? Or has the East Mesa been overlooked? Save Our Heritage Organization (SOHO) thinks "the City needs to start treating the Park's east side with the same respect and care as the Prado area."
Map of the East Mesa
The map on the gateway sign was developed in 2009 by KTUA, a San Diego landscape architecture firm. The planners at KTUA mapped the park's existing hiking, walking, and biking trails and analyzed points of interest using computer-based geographic information system (GIS) software. The main goal of the project was to identify options for discovering lesser known areas of Balboa Park while also providing direct walking routes to major destinations. Loop trails that originate at each of the five gateways are color-coded and you'll find color-coded information markers posted at key points along each route. The trails range in length from less than half a mile to more than seven miles and are labeled easy, moderate, and difficult accordingly. Have a look at the map to get acquainted with the area. Medium to difficult trails run around the mesa's perimeter and north and south through Florida Canyon. The largest undeveloped area in the park, Florida Canyon is an open space preserve and Federally-protected habitat zone.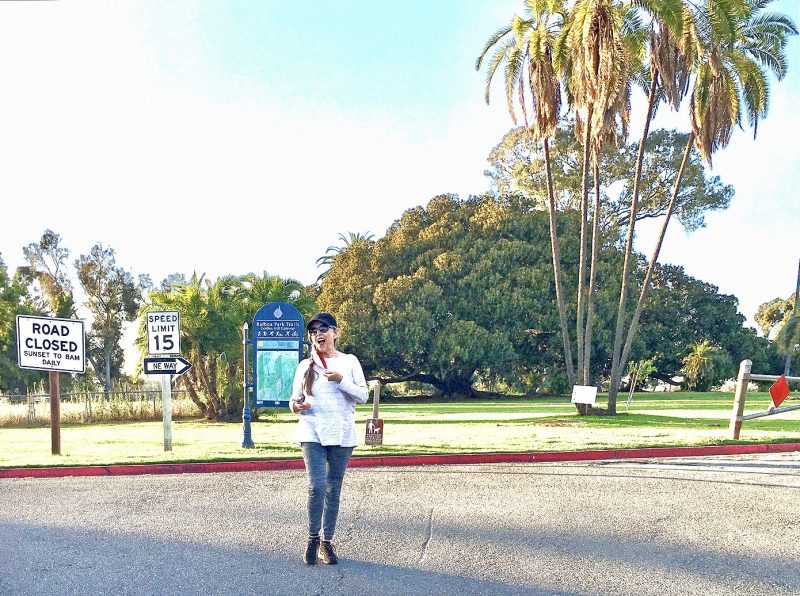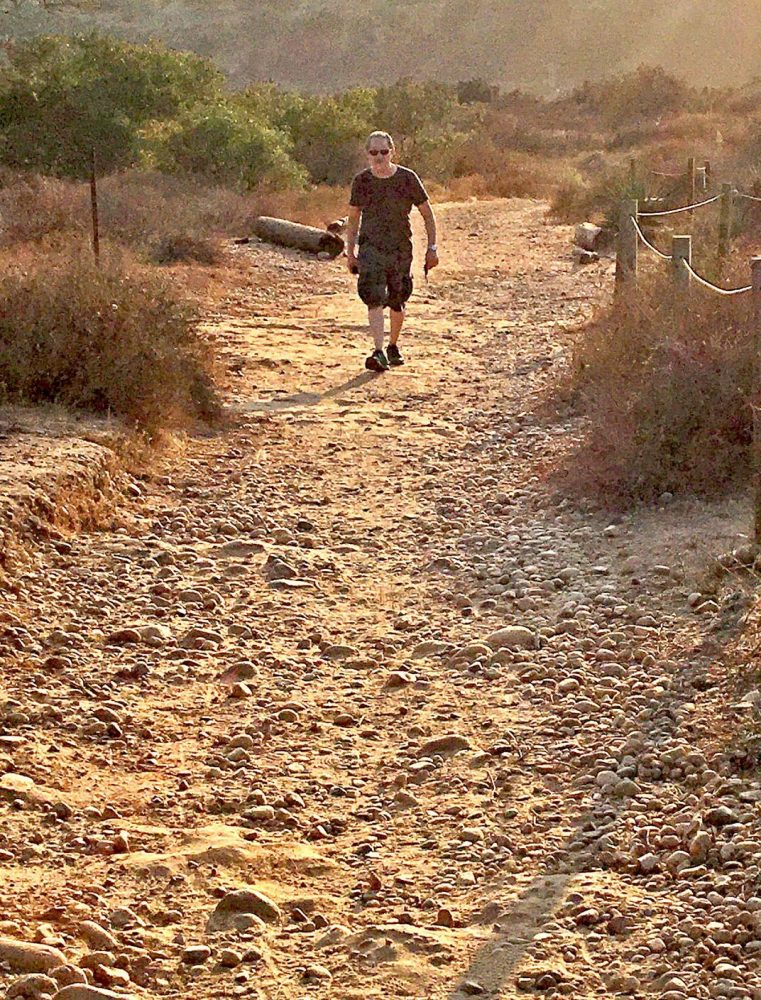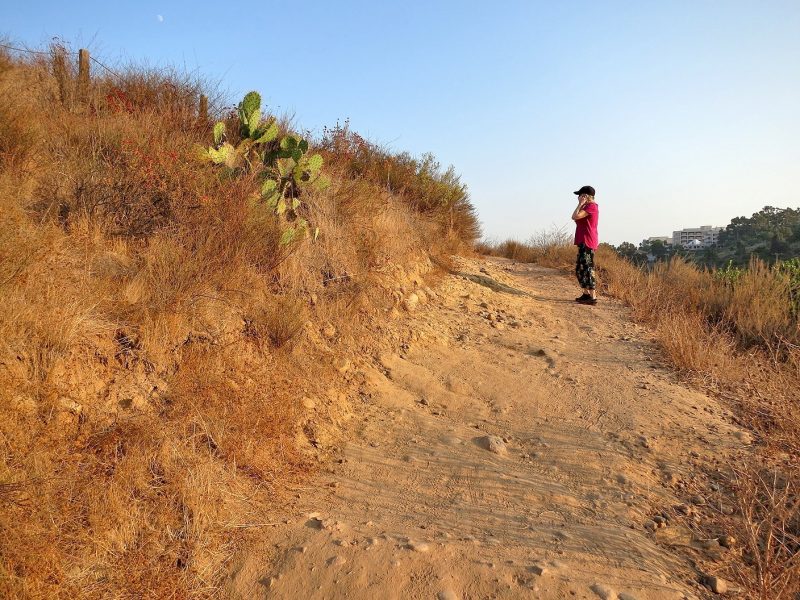 Golden Hill Park
Golden Hill Drive, a popular easy-level walking route, loops through Golden Hill Park. This little known intimate green space dates back to 1890 when Golden Hill residents inspired by the landscaping efforts underway by horticulturist Kate Sessions on the West Mesa, came together to establish this junior park within the park and persevered even when their earliest attempt was upended by drought. The vision of landscape designer Samuel Parsons, Jr., and the hand of his assistant, George Cooke, is evidenced by dramatic Moreton Bay fig trees, groves of Date palms, fan palms, and stunning vistas (that is, if you position yourself in a spot that blocks out the hard-to-hide Naval Medical Center). These views through intended openings in the trees surely come close to those envisioned by Parsons in 1902 in his original picturesque-style landscape plan for what was then City Park.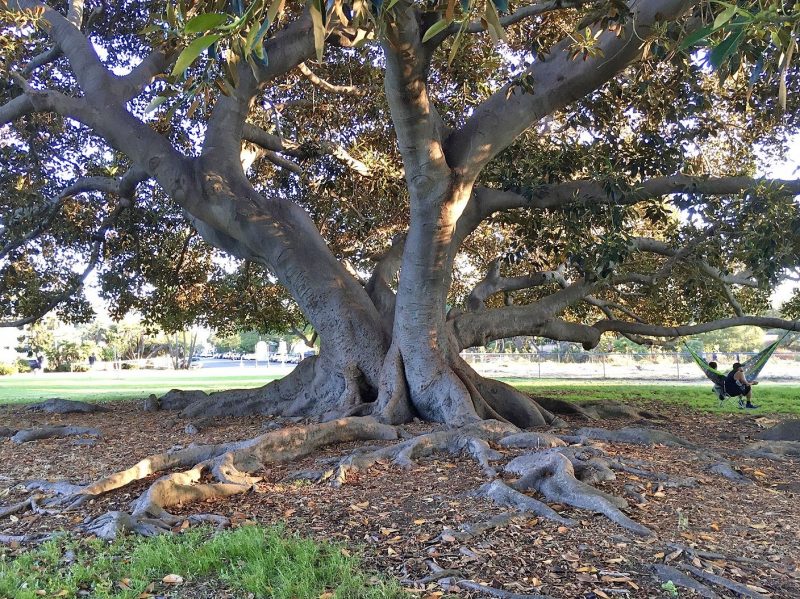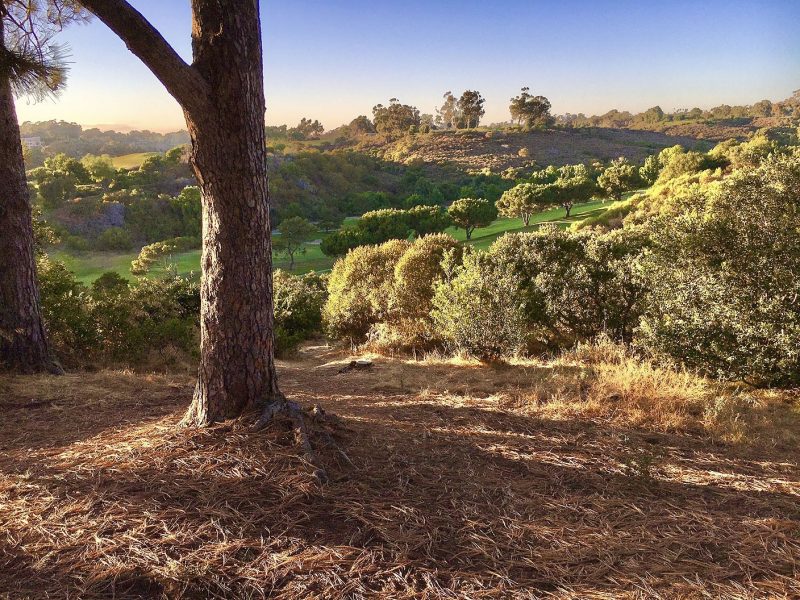 Golden Hill Fountain Grotto
The hard-to-find Golden Hill Fountain Grotto is in the southwest corner of Golden Hill Park. In 1907, Park Commissioner L.A. Wright, a Golden Hill resident, worked with architect Henry Lord Gay to design this outdoor gathering place, which may be one of the oldest surviving designed features in the park. Gay is probably best known for the Western Metal Supply Company Building that is now part of Petco Park. Influenced by the Arts and Crafts architectural style that embraced the use of natural materials, the grotto features a pair of smooth cobblestone and concrete stairs bordered by coarse jagged rock walls whose gritty texture and warm earthy tones blend into the surrounding environment. The stairways curve down into a rustic inglenook where a circular rock fountain flanked by wooden benches once gurgled. Now a design archaeological site, hidden by unruly weeds and overtaken by transients, the grotto deserves to be reclaimed and preserved as part of the park's cultural landscape.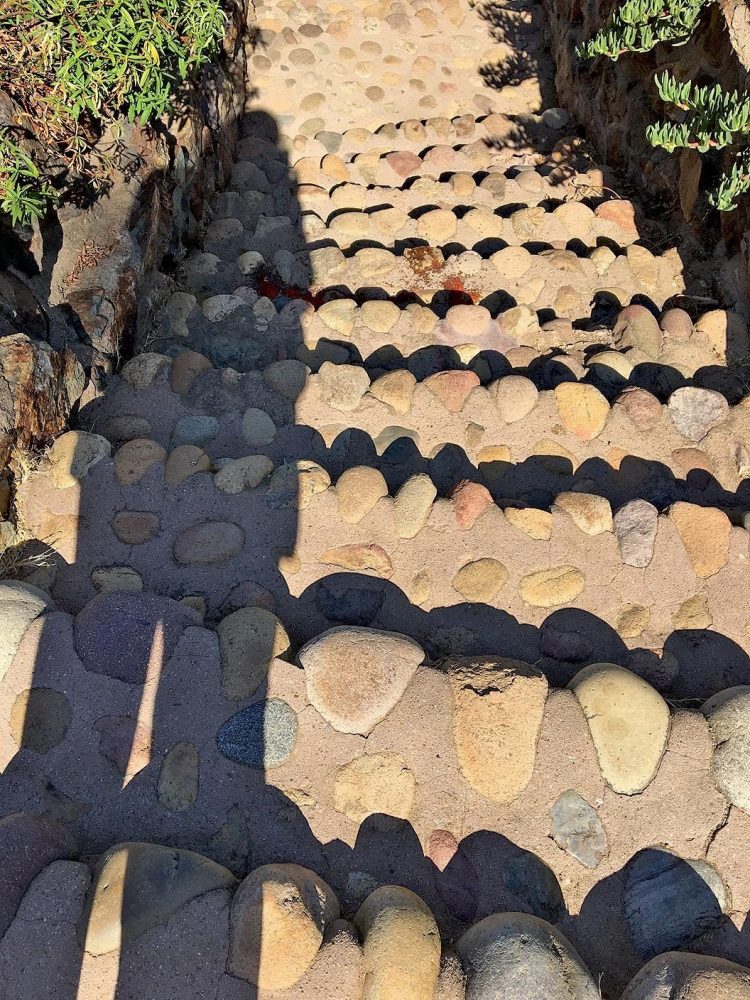 Bennington Memorial Oak Grove
A park trail follows 26th Street downhill from Golden Hill Park to Bennington Memorial Oak Grove, which honors 66 crew members of the USS Bennington who lost their lives in July 1905 when their ship's boiler exploded while docked in San Diego harbor. Sixty-six California oak trees were planted in their honor in this southwest corner of the park on November 30, 1905, in conjunction with an established program to plant 300 memorial trees in City Park. As with other areas of the East Mesa, the grove had been neglected over the years. In 2017, the San Diego Chapter of Daughters of the American Revolution (DAR), a not-for-profit women's service organization whose goals include historic preservation and conservation, took up the task of enhancing the grove as part of the Friends of Balboa Park adopt-a-plot program, the goal of which is to ensure preservation of the park's rich horticultural heritage. Landscape designer and DAR member Judith Reale drew up the plans and volunteers, including local Boy Scouts, helped implement the modifications including a sign, which for some reason, like other signs on the East Mesa, doesn't adhere to the park's signage guidelines. The City of San Diego added curbs, cones, and striping on 26th Street, to protect pedestrians who enjoy hiking the trails that run through the grove.
Balboa Park Municipal Golf Course
Directions:
From Golden Hill Park follow Golf Course Drive to the Balboa Park Municipal Golf Course clubhouse. Park in one of the adjacent lots and enjoy the panorama that takes in the clubhouse, putting green, driving range, and views of the 18-hole and 9-hole courses.
City Park scores a golf course on the Central Mesa
Like other early do-it-yourself efforts to make use of land set aside as City Park in 1868, a golf course was put into play in 1896 by newcomers to San Diego, Dr. and Mrs. William S. Edwards of University Heights. These golf aficionados recruited a group of curious friends to help lay out a nine-hole course in an area now occupied primarily by the Zoo parking lot: Upas Street on the north, Florida Canyon on the east, Laurel Street on the south, and Richmond Street on the west. The pioneering course was 2,485-yards long with dirt fairways and oiled-sand greens—that's right, not a blade of grass in sight. Grass fairways and greens require a lot of water and it just wasn't feasible to devote that much water to maintain golf links. Nonetheless, this rudimentary course designed by golf enthusiasts was the first public golf course in Southern California and provided a lot of enjoyment while it lasted.
Rebuilding on the East Mesa
In 1913, that first course was forced to close as plans for the Panama-California Exposition got underway. The members ended up relocating and eventually founded the San Diego Country Club. Meanwhile, another nine-hole course was installed on the East Mesa and, like the first course, was just dirt fairways and oiled sand greens. It remained in this condition until 1929 when the City Council granted a permit for a grass golf course. Eventually, the municipal golf course would be irrigated with reclaimed sewage water, thus enabling grass fairways and greens.
Bring in the pros
The City ordinance also called for hiring a professional golf course architect and building a clubhouse. Estimates were received from Tommy Banks for $76,080 and William P. Bell for $155,000. Private funds were raised and Billy Bell of Pasadena, a leading golf course architect and founding member of the American Society of Golf Course Architects, was contracted to design and develop a new 2,372-yard nine-hole all-grass course east of Golden Hill Park, which opened on October 31, 1931. Bell's contract was expanded to include design of an adjacent championship length 2,667-yard 18-hole course that opened on April 27, 1933.
While I'm not a golfer, as a designer I can certainly appreciate this description of Bell's design methodology aimed at providing a memorable and challenging experience for golfers. "Bell employed his trademark lacey-edged bunkers with strategy and temptation in mind. These artistic, three dimensional multi-bayed bunkers were used as fairway cross hazards and naturally flowed away from greens. He favored rolling, undulating green surfaces strategically linked to hole locations and approaches allowing the golfer to work the ball on to the green. Bell was a master at using drainage paths in his design decisions, allowing natural hazards and fairway movement to shine. Trees were used, but sparingly, mostly to accent the aesthetics of the surrounding area." (William Bell Society)
New Deal to the rescue
All of these plans coincided with the October 1929 stock market crash, which led to the Great Depression. Thousands lost their jobs. In response, the City of San Diego initiated a public works project in January 1931 to provide funds to hire unemployed workers. Additional money came from economic recovery programs established by President Franklin D. Roosevelt's 1932 New Deal, including the Federal Emergency Relief Administration (FERA), which offered Federal grants to states for emergency assistance administered through the State Emergency Relief Administration (SERA). The Civil Works Administration (CWA) provided actual jobs through a public works program. SERA funding supported completion of the golf courses and CWA funds were used to hire skilled unemployed workers to construct the clubhouse.
"Through the depression the city gained a recreational asset at a time when least expected," said Sam Fox, chairman of the park commission, at the opening ceremony of Balboa Park's nine-hole grass golf course.
Golf Course Clubhouse
The existing golf course clubhouse is a California Ranch-style 50-by-150-foot L-shaped building located on a hairpin curve across from the nine-hole golf course. Dedicated on August 4, 1934, the clubhouse building underwent several additions over the years. A 1999 study prepared by Walter Enterprises for the Dahlin Group, notes that an eclectic mix of architectural styles leaves the impression that the clubhouse "was not designed and built as a single unit." It's more likely a composite of three separate units: a structure that contained the "original east wing and golf shop," a stuccoed clubhouse, and a restaurant. The report considered the possibility of three separate design and construction phases, which likely resulted from reliance on funding from federal and state unemployment relief programs established by the New Deal. The building seems to be more significant for its connection to American social history and the evolution of golf in San Diego than it is for its architecture.
In 2013, the architecture and planning firm, Dahlin Group, submitted a revised clubhouse master plan that proposes rehabilitating the existing clubhouse as an historical landmark and building a brand new clubhouse to the south. The planning and landscape architecture firm, KTUA, designed the master landscape plan that includes a wide variety of recommended trees, shrubs, grasses, vines, and groundcovers along with suggested landscaping materials.
At the time of this writing, I wasn't able to confirm the status of the new clubhouse project. It's interesting, though, to imagine what someone 100 years from now might write about the integrity and design significance of the architecture and landscaping should this project be approved and move forward. The waves of architectural influence in the Central Mesa might offer some perspective.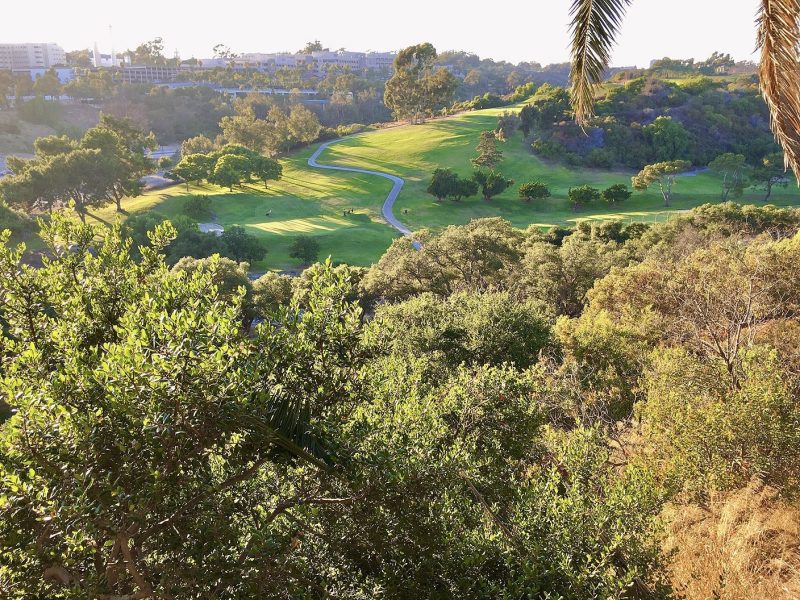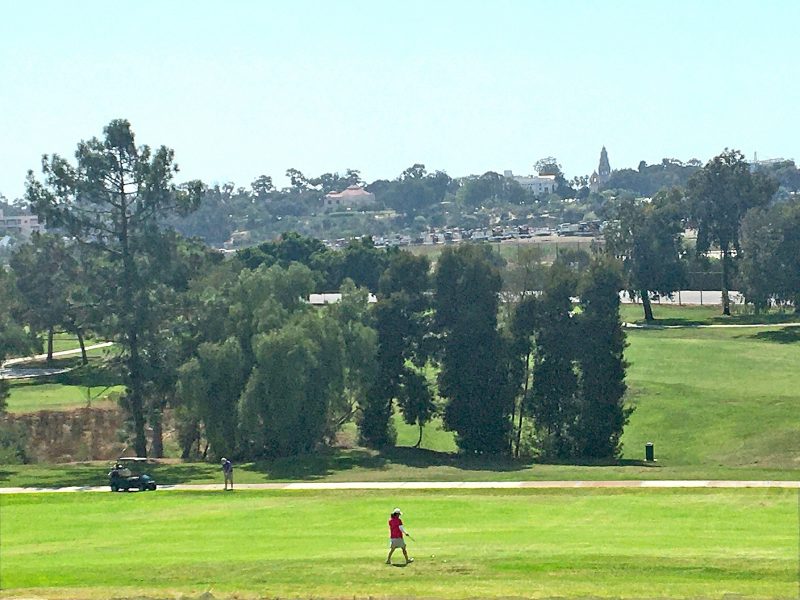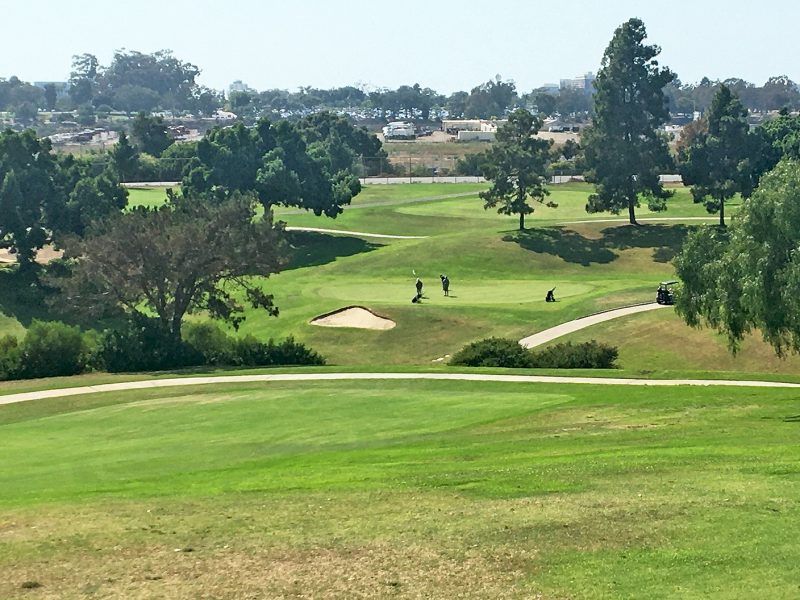 On to Morley Field
Directions:
The entrance to Morley Field Sports Complex is located on Upas Street at the intersection with Texas Street. Start at the Balboa Park Trails Morley Field gateway sign on the south side of the parking lot. Review the map to get a sense of the Morley Field layout.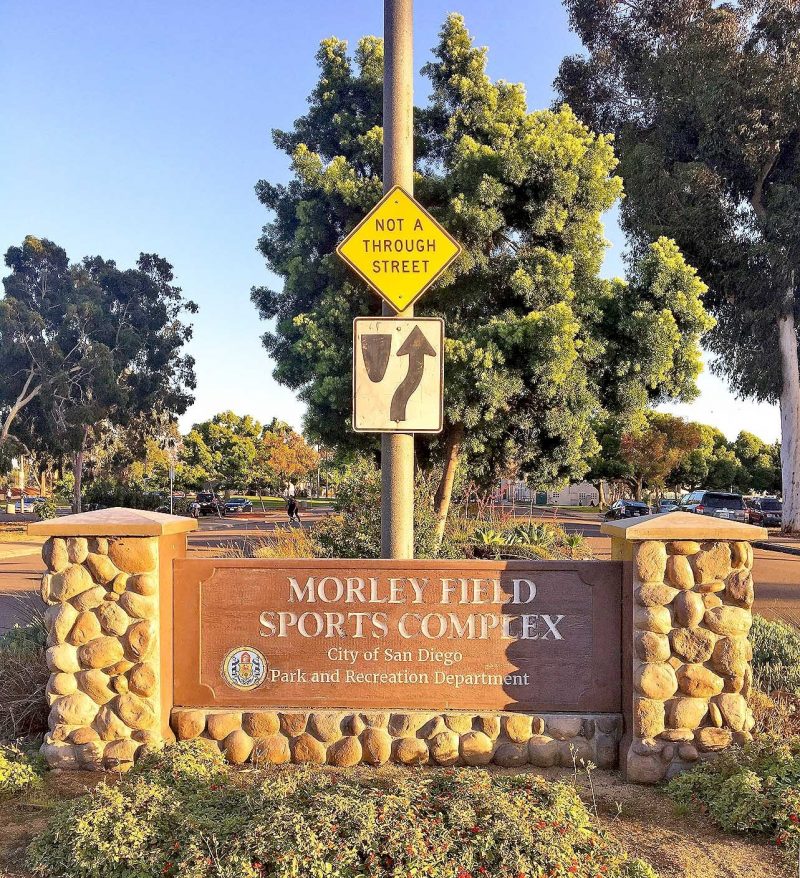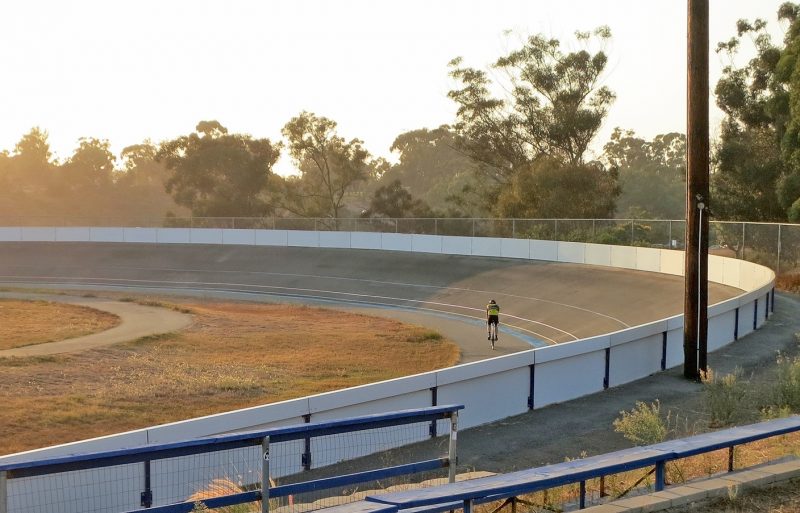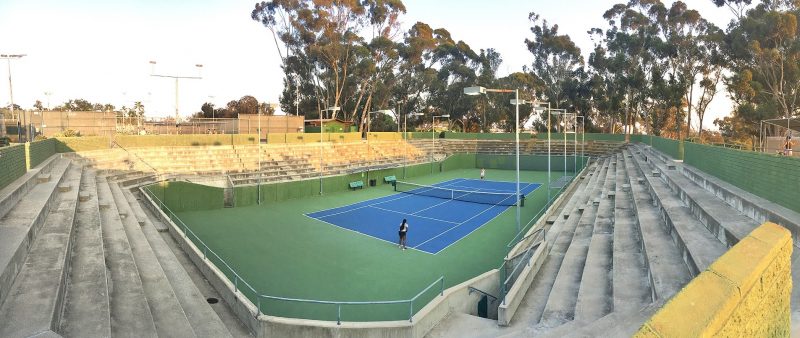 John Nolen's master plan

In 1907 John Nolen, a landscape architect and city planner from Cambridge, Massachusetts, was hired by George Marston to put together a master plan for San Diego. In 1924, the City Council invited Nolen back to bring his earlier plan up to date. This update included a special plan for 60 acres in the northeastern corner of Balboa Park, now known as Morley Field, after John G. Morley who served as superintendent of San Diego's parks from 1911 until he retired in 1939.
Nolen's approach merges two approaches to park design: the "pleasure ground" akin to the picturesque style and the "recreational facility." The pleasure ground concept, according to Galen Cranz, associate professor of architecture at UC Berkeley, features a pastoral landscape that simulates nature and the countryside and incorporates features like hillsides, open meadows, paths, trees, and streams. This type of park is most often associated with Frederick Law Olmsted, Sr. The recreational facility emphasizes physical activity and contains amenities such as swimming pools, tennis courts, and a variety of sports fields.
Nolen's plan put on hold
For financial reasons, due in part to the Great Depression, Nolen's plan wouldn't be set in motion until 1931 when unemployment relief funds became available and the park's recreational facilities were selected for improvement. Included from Nolen's plan were a 131-foot by 85-foot outdoor municipal swimming pool, a bathhouse, a lunch stand, and recreation center offices. The bathhouse is a Spanish-style building with a red tile roof and colorful decorative tiles surrounding the front entrance. Notice the easy-to-miss design details in the decorative tooling at the top of the wrought iron grills covering the windows that flank the door. AD (Anno Domini) is incorporated into the window grill on the left and the date 1932 is included in the design on the right.
The bathhouse was designed by architect Herman Louis Bodmer originally of Zurich, Switzerland. At the time, Bodmer was working as a designer for architect William Templeton Johnson who was known for his Spanish-Revival buildings. In the Central Mesa, Johnson designed the Museum of Natural History and the Fine Arts Gallery of San Diego, now the San Diego Museum of Art. If you recall from the West Mesa tour, Johnson also designed the stylized sickle-shaped leaves and pods of the Blue Gum Eucalyptus on the teahouse capitals and small corbels above the garden fountain at the Marston House.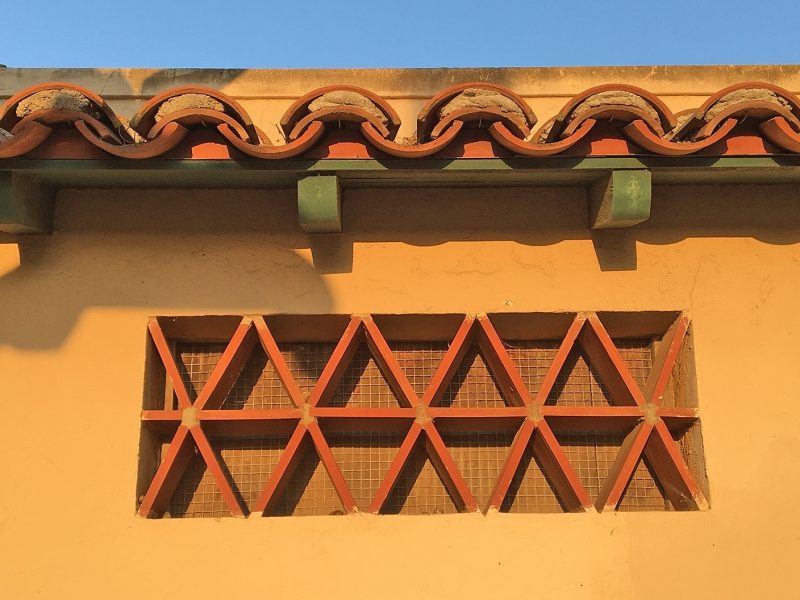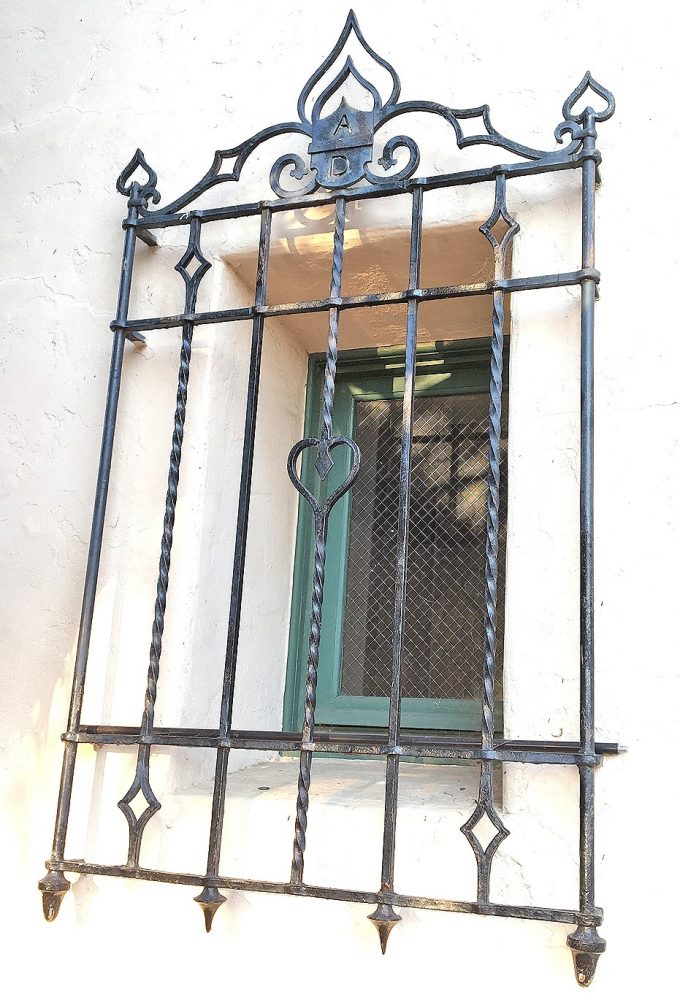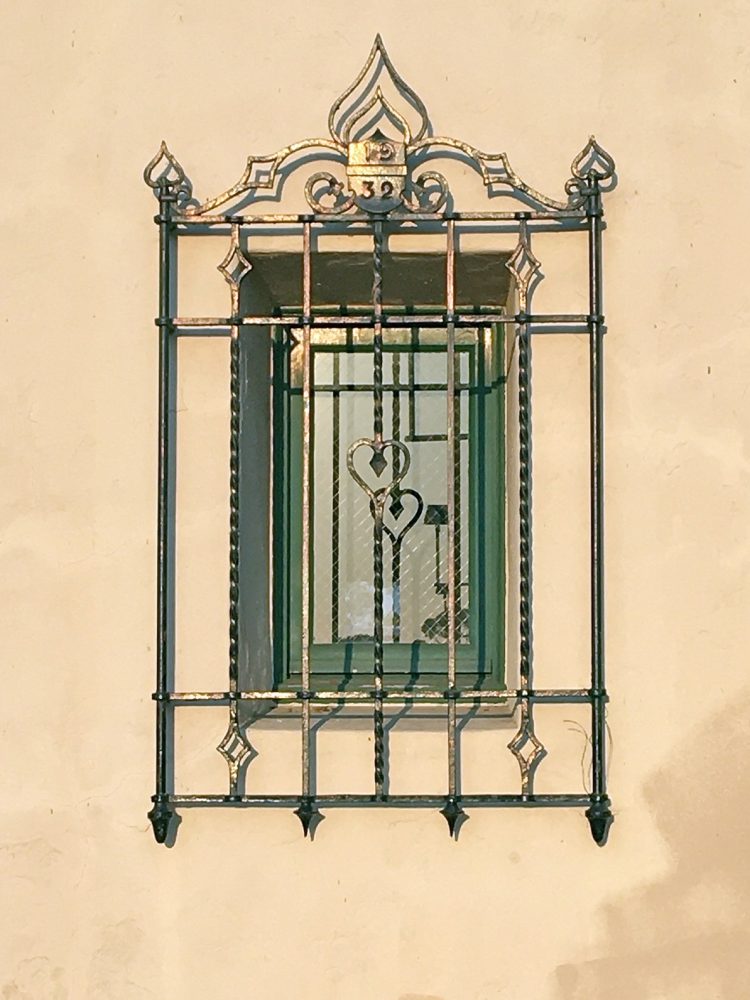 New Deal to the rescue
Construction of Morley Field was still underway in 1934 when the Civil Works Administration (CWA) hired unemployed workers to construct six tennis courts; baseball field and grandstand; shuffleboard; roque, squash, and croquet courts. This work coincided with the construction of the golf course clubhouse. According to the 1989 master plan by Estrada Land Planning, Nolen's recommendations were implemented except for the gymnasium. The park eventually did get a gymnasium but not on the East Mesa. The Balboa Park Activity Center, a 38,000-square-foot multi-purpose gymnasium designed by Wheeler Weimer Blackman (now JCJ Architecture) in collaboration with architect Rob Quigley of RWQA was completed on the Central Mesa in 2000.
Arizona Landfill
While a comparison of the Nolen and Estrada drawings indicates that the implementation of Nolen's plan was not followed to a T, Balboa Park historian Richard Amero chalks that up to the fact that Nolen was not around to supervise the work. And the Arizona landfill was certainly not part of Nolen's plan. The City Sanitation Department opened the dump on the East Mesa in 1952. Amero notes that it takes 30 to 40 years for the methane gas to dissipate and for the land to settle. It has been 45 years since the landfill was capped in 1975. How might this public space be reclaimed for the benefit of San Diego's citizens and what role might designers play in reimagining its purpose?
East Mesa Earthworks
Actually, according to another archaeological design site, an interpretive sign at the Morley Field off-leash dog park, community artist Cindy Zimmerman revitalized the area in her project "The Great Balboa Park Landfill Exposition of 1997," part of the city's Balboa Park East Mesa Precise Plan and a community engagement project of InSite97. As stated on the sign, the project was designed "to beautify the site through the combination of public art and native habitat restoration." Robert Pincus, former art critic of The San Diego Union-Tribune, said the aim was "to change the perception of the former landfill site from unused territory to a usable portion of the park, to make it inviting rather than off-putting." Zimmerman said that she wanted "to supply a new narrative for this land. Or, perhaps uncover an old one" referring to the historical uses of the land by the Kumeyaay people. ("Sculptures celebrate 'hidden' Balboa Park," October 17, 1997) As bales of hay and clay were Zimmerman's choice of materials, her temporary structures engaged the community and achieved their purpose for a short period of time, as intended.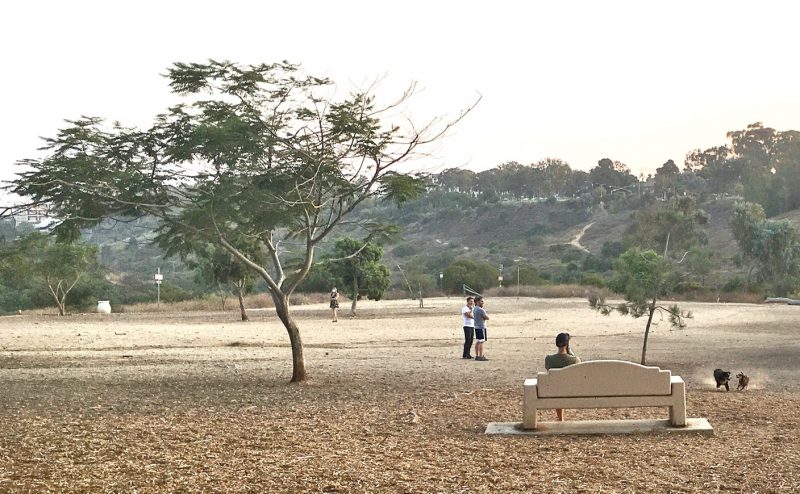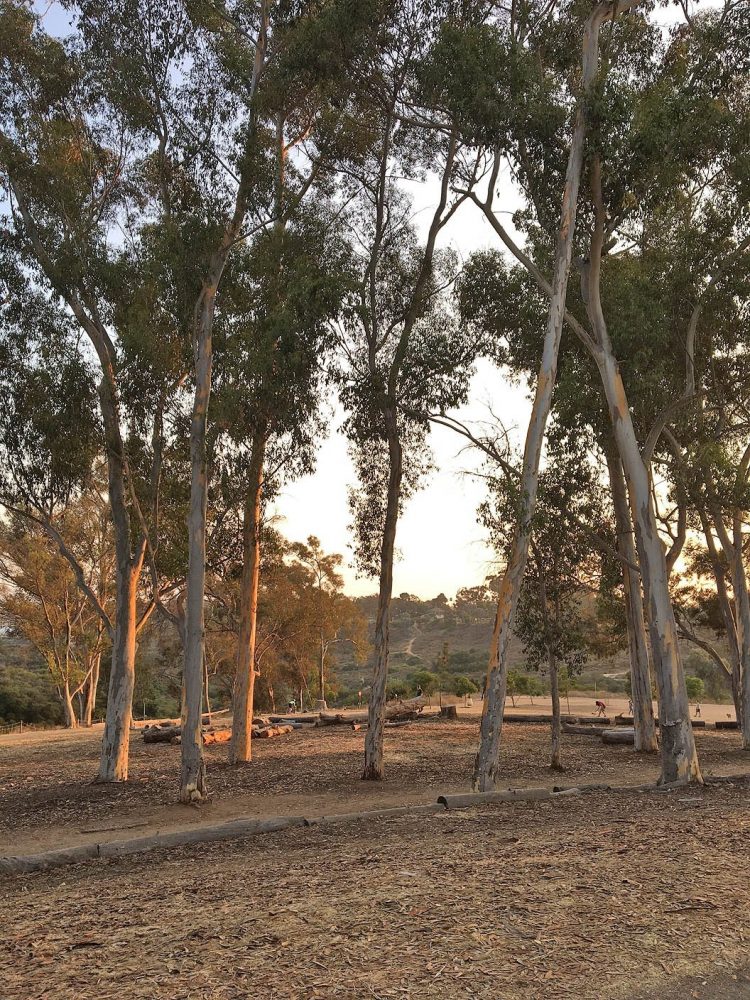 An architectural highlight in disguise
Alongside the northwestern end of the tennis courts sits another hidden design treasure in plain sight. The 1960's Balboa Park Tennis Clubhouse is an architectural gem designed by Sim Bruce Richards, one of the region's most influential post-World War II modern architects. Richards was a fellow at Frank Lloyd Wright's Taliesen and Taliesen West from 1934–35. Wright's principles of organic architecture are certainly evident in the small clubhouse: human scale, use of natural materials, and integration of natural light. The extruding windows that angle to a point invite a lot of light in and also complement the apex of the low roofline over the patio area. Like here, Richards almost always used wood in his buildings, although, he usually left the wood unpainted.

I was excited to discover the nearby public restroom. I don't have documentation but I'm pretty sure that this free-standing building was also designed at the hand of Richards. It has many of the same structural characteristics as the tennis clubhouse.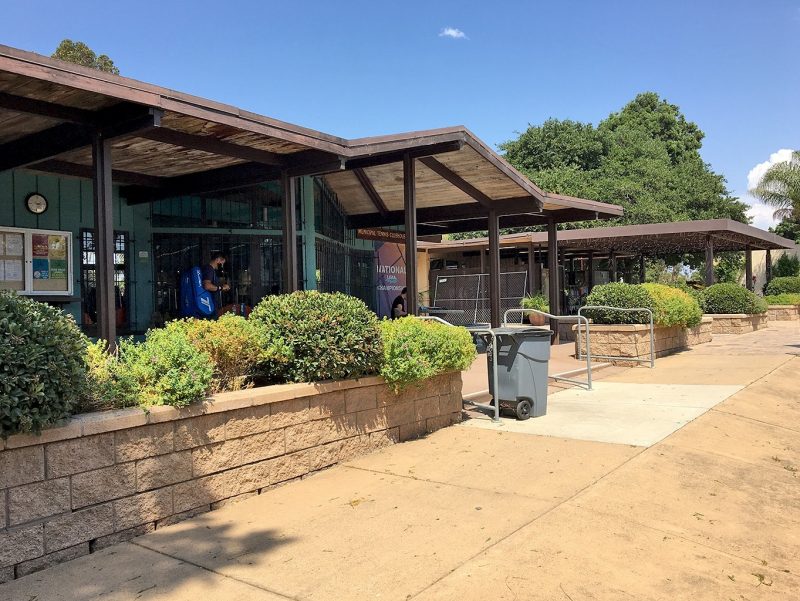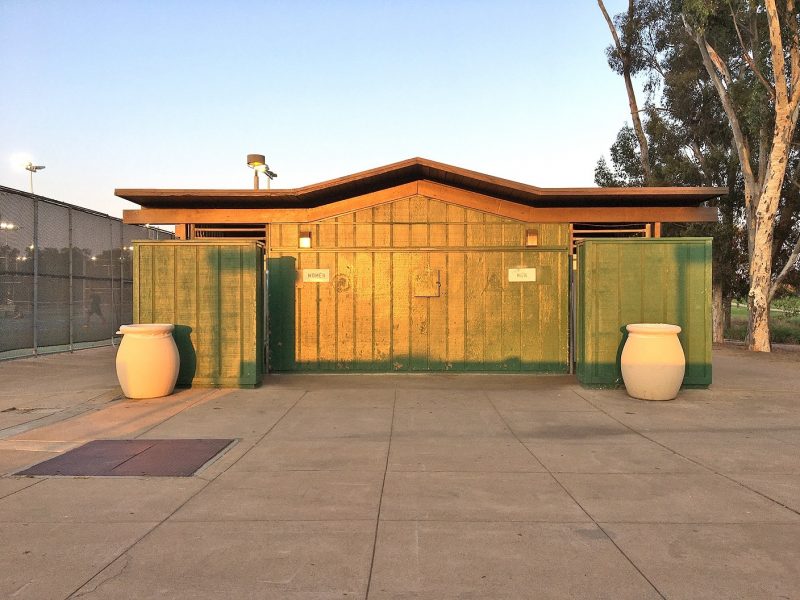 Bird Park
Before leaving the East Mesa let's head over to Bird Park at the corner of Upas Street and 28th Street. From that perch you'll enjoy a view that reaches all the way to downtown and beyond. The original design of this six-acre section of the East Mesa was created by Wallace Roberts and Todd (WRT) of Los Angeles in collaboration with San Diego public artist Robin Brailsford. However, due to funding constraints many of the public art features and iconic elements were not included in the initial construction phase completed in 1997. Brailsford hopes that the remaining components will soon be installed along with much-needed landscape and hardscape upgrades, all of which are incorporated in a new set of plans by landscape architect Dennis Otsuji, a principal at Wimmer Yamada and Gaughey. The plans have been approved by the City of San Diego. All that's needed now is the funding. Brailsford is optimistic that grants and private philanthropy will help the community realize its dream of a completed Bird Park.

The design concept behind Bird Park was inspired by the organic shape of the site as envisioned from above, which to Brailsford suggested a perching bird and its nest. The concept drawing of the birds-eye-view is on display at the children's entrance at Thorn Street. Hand-enameled interpretive signs by San Diego artist Wick Alexander are also posted in this area.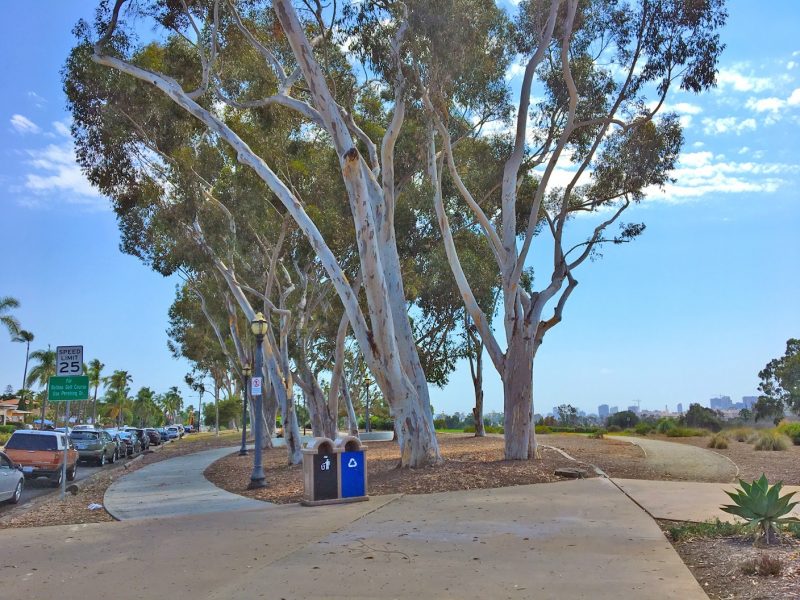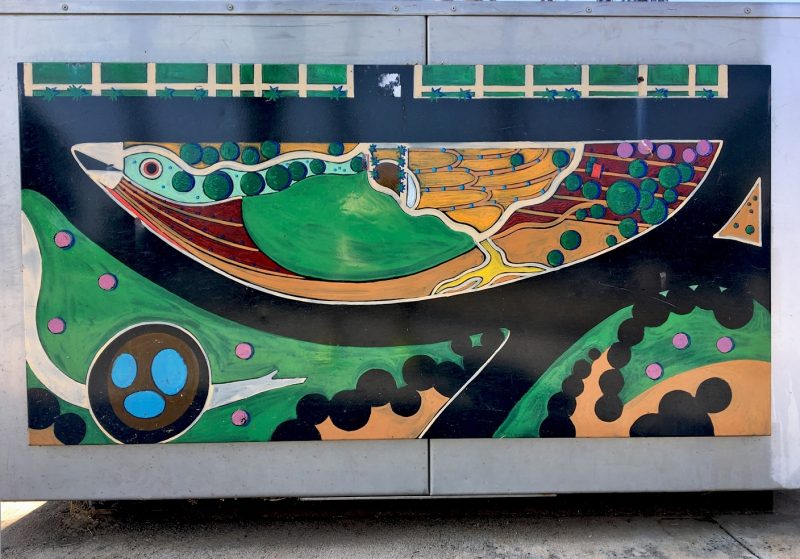 The bird theme expands into the sidewalk, literally. The title "Perching Birds of San Diego" is sandblasted into the concrete in four places along the curvilinear sidewalk that winds its way around vintage street lamps and soaring eucalyptus trees. In between the repeating titles and running the length of the meandering walkway are the names of close to 90 Perchiform bird species native to San Diego. The names, compiled in collaboration with ornithologists at the Natural History Museum, were typeset in VAG Rounded, a sans serif typeface designed by Gerry Barney in 1979 for Volkswagen AG.
Continuing the avian theme, a poem by children's author Frances Wosmek is inscribed around the perimeter of a circular seating area in Adrian Frutiger's 1954 script Ondine. This round respite represents the eye of the bird, which according to the new plans will become a covered gazebo when completed. Other improvements include a trellised arbor with a perching bird to mark the Thorn Street entrance, additional playground equipment, a board game with life-sized panels illustrated by local school children, and new picnic tables featuring mosaics of things birds like to eat that were also designed and conceived by children who Brailsford said, "are now in their 30s!"

Keep promise
With the luminous light
Oh magic eye
To soon be sight
Dream now
From every branch of tree
A bird's eye view
Of land and sea.
— Frances Wosmek

A second verse by Wosmek is sandblasted on a portion of the seat wall that curves around the open lawn. Brailsford said, the poem "suggests the hopes the mother has for the child." One might also consider the poem a metaphor for the hopes Brailsford has for Bird Park.

Burst then
With every leaf from bud
To broader reach
And golden sun
New old
The each is everything
Time indivisible
And all songs one

— Frances Wosmek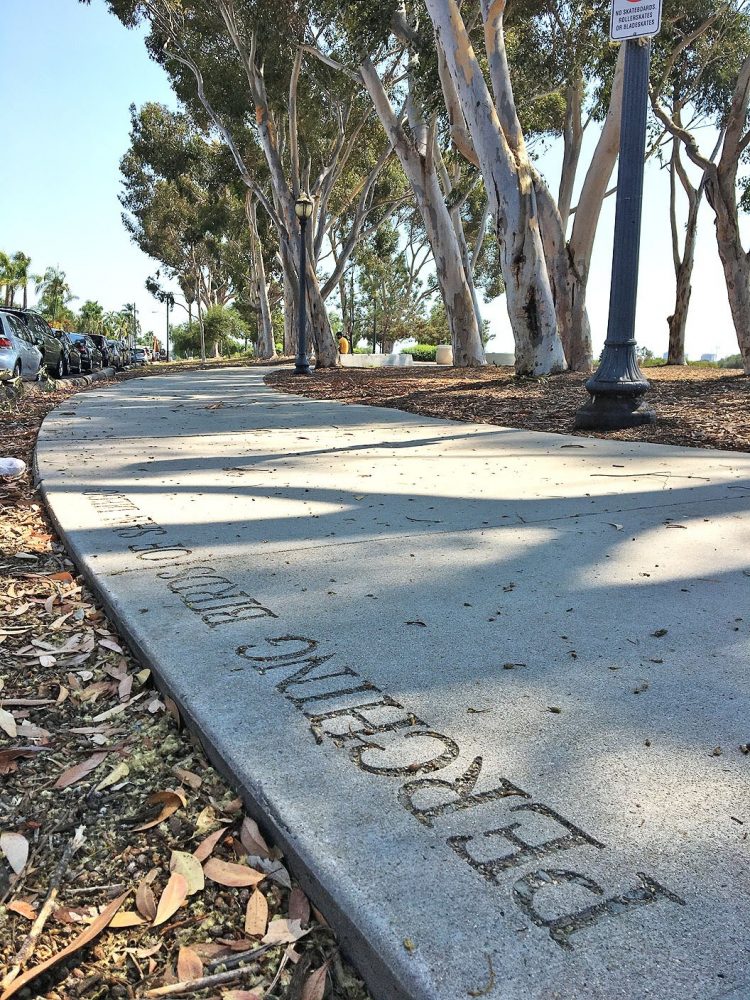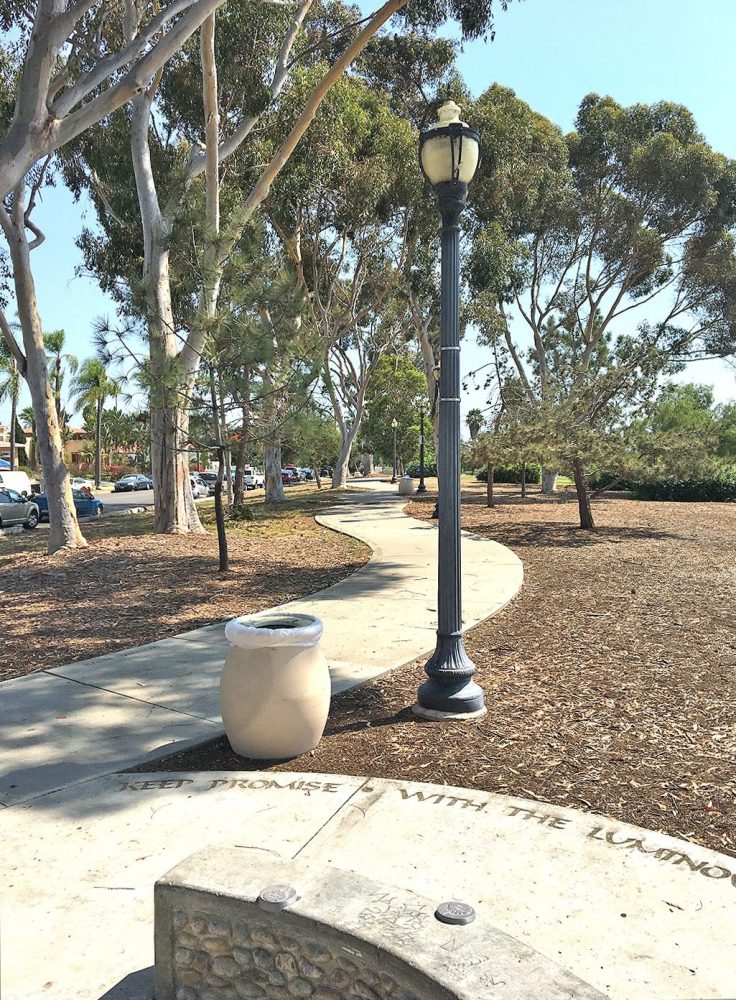 About Susan Merritt
Susan Merritt researches and writes about visual communication, material culture, and design history. She completed postgraduate study in graphic design at the Basel School of Design and earned an MA in Design Research, Writing and Criticism from the School of Visual Arts. She is Professor Emerita of SDSU's School of Art + Design where she taught graphic design and graphic design history while maintaining a professional practice. Merritt is a founding member of AIGA San Diego and contributing writer to AIGA's Eye on Design blog. She and husband Calvin Woo co-founded Design Innovation Institute, which fosters traditional and non-traditional areas of design and supports student scholarships. She sits on San Diego Design Week's advisory board and is an active member of the steering committee.