About the Tour
San Diego has a unique collection of community identity signs. Some are historic, some are more modern, but all help to create a sense of place for the unique character of the community they represent. These signs are a sense of pride for residents, a welcoming feature for visitors, and often a driver for economic development. Join for our talk Wednesday, September 9th with Simon Andrews and Beryl Forman, then venture out to experience the signs on your own through the self-guided tour, which includes all of the locations listed below.

North Park Sign
Suspended sign installed 1935, replaced by median pedestal sign in 1993.
The original illuminated North Park was suspended over the intersection of University and 30th. It was installed after a nearly yearlong effort to raise money by community groups, most notably by the wives of the North Park Business Club, who organized the greatest effort to raise $400. The sign hung over the intersection until it was taken down in 1966 to be replaced by a revolving sign. However, that never happened due to poor business and economic troubles. In the 1980s, efforts were begun to create a new sign. A wooden replica was placed at University and Boundary proclaiming, "North Park—Home of the Famous Toyland Parade." Significant vandalism to that sign spurred efforts to raise money for a full-size metal replacement, which would eventually take another 5 years to raise. In 1993, the new neon sign was erected on a colorful tile pedestal in its current median location.
Hillcrest Sign
First erected in 1940, rebuilt in 1984, and again in 2011.
The original Hillcrest sign was a gift to the community by a group of female shopkeepers at the time. The 25 foot long red metal and pink neon sign was originally suspended between tall wooden posts, but were soon replaced with metal ones as the wooden poles made the street appear like "a big tree district". In 1984 the original sign was rebuilt, and then in 1994, artist Christopher Lee added finials of glass balls and aluminum to the supporting metal poles. The pink neon sign was rebuilt again in 2011 using new LED technology. The original neon sign was put in storage until purchased by Obelisk to hang in the shoppe on University Ave. In 2015, the original sign was moved to Rich's Nightclub where it currently hangs.

The Boulevard Sign (El Cajon Blvd)
Installed in 1989.
To fill the void of lost neon signage, the spectacular Boulevard gateway sign was erected in 1989 to return to the glory of neon. City officials and local business leaders saw the sign as a major new landmark which would promote the Boulevard as a destination and encourage further community revitalization efforts. The sign was designed and built by Graphic Solutions for a cost of $200,000.
The sign is maintained by The North Park Landscape Maintenance District and was repainted in 2016.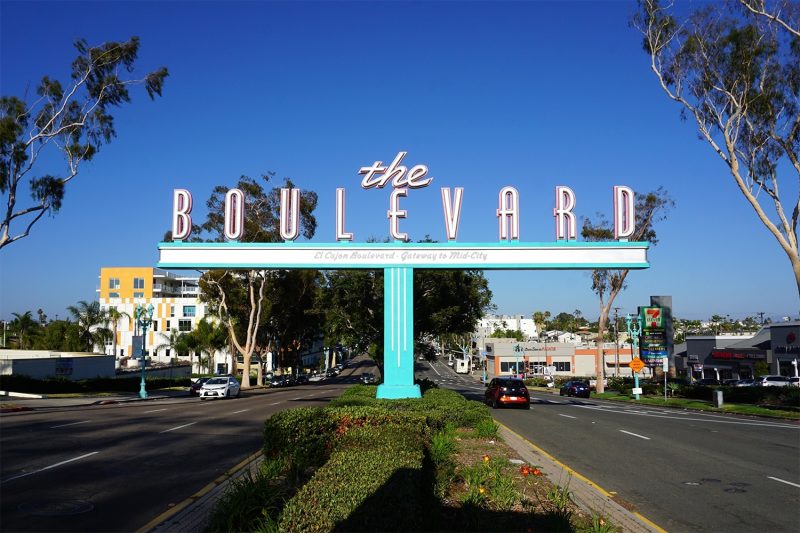 Normal Heights Street Sign
Installed around 1959.
The "Normal" in Normal Heights gets its name from the San Diego Normal School, a teacher-education college once located on the site. This sign, installed around 1959 by local electrical company Jackson Electric, is suspended over Adams Avenue, and is the backdrop for many annual community events held on this major thoroughfare. The sign was recently repainted in 2011, but still maintains its original neon lighting.
Kensington Street Sign
Original installed in 1954, replica hung in 2010.
Subject to a bit of controversy, the Kensington sign that hangs above Adams Avenue today is a historic replica of the original that was installed in 1954. A community-led effort to designate the original sign as a historic landmark feature was successful in 2008, however some disagreement surfaced on how to care for and replace the deteriorating sign. Eventually, a deal was struck in 2010 that allowed for a replica sign to be built and suspended in the original historic fashion, preserving the unique character of this important community landmark.
Gaslamp Quarter Sign
Installed in 1990.
Utilizing neon, incandescent, and fluorescent lighting techniques, the Gaslamp Quarter sign is a uniquely luminous example. It is best experienced at night, seen in the context of San Diego's most energetic nightlife. When it was installed in 1990, the sign was a symbol of San Diego's commitment to revitalizing the once seedy downtown core. Now a destination of tourists and locals alike, the Gaslamp sign is one of San Diego's most photographed and recognizable downtown landmarks.
Little Italy Street Sign
Installed in 2000.
Representing San Diego's Italian-flavored restaurant neighborhood, this blue neon and silver metal sign was installed in 2000. Historically, Little Italy was a tuna fishing and canning hub up until the 1960's. The sign gives a nod to the neighborhood's nautical roots, while celebrating the lively culinary center it is today.
Barrio Logan Sign
Installed in 2014.
Eighty feet long, the sign representing this historically Hispanic neighborhood has Mayan, Aztec and Kumeyaay motifs. There's a fish, a nod to the historical importance of the sea as a food source, and an ear of corn, a staple crop for Native Americans. Two pyramid shapes on the sign overlap, "representing the meeting of cultures," said Armando Nuñez, a longtime Barrio Logan resident and artist who helped design the sign. "It's cultures joining together to form a future," he said. "That's something that occurs in this community every day." Realized through a partnership of neighborhood groups, artists, and government agencies, the sign truly represents a community coming together.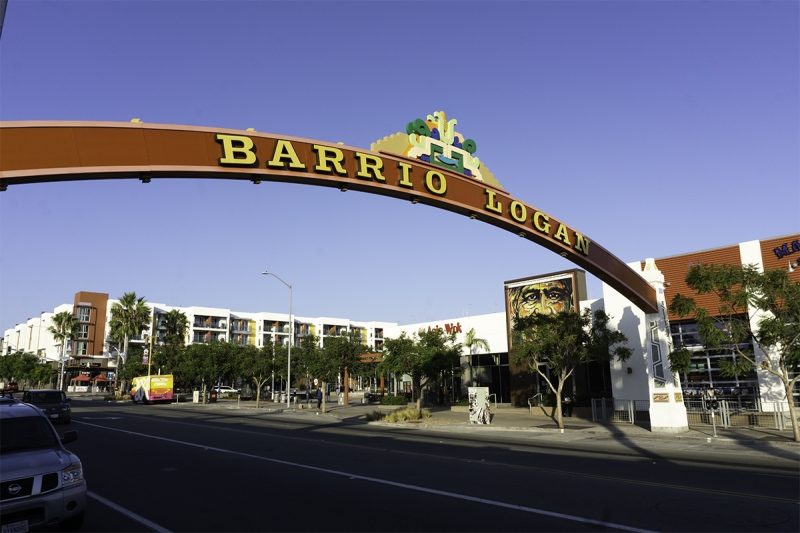 Chula Vista Street Sign
Installed in 2003.
For this community's most prominent statement of intent to revitalize this important historic commercial district south of San Diego, local design firm Graphic Solutions designed the "Third Avenue Downtown" brand. It included the classic overhead gateway sign and accompanying wayfinding and directional signs, street furnishings, banners, and print materials to establish a comprehensive identity for this up-and-coming community center.
Imperial Beach Sign
Installed in 1999.
Lovingly referred to as "Surfhenge", this sign sits at the entrance to San Diego's most southern beach. Artist Malcolm Jones designed the iconic colorful acrylic surfboard shapes that now have become recognizable for the area.
El Cajon Street Sign
Installed in 2009.
The design selected by a vote from the public includes an illuminated decorative arch, with gold-leafed sun rays at the center, held up by two metal posts with dedication and historic plaques at their bases. The sign sits on the location of the historic hotel built by the town's founder, Amaziah Lord Knox, at the crossroads leading from the San Diego wharf up to the mountain town of Julian. The hotel was a popular stopping point for past travelers, and the new arch sign serves to welcome the modern travelers.
Encinitas Sign
Suspended sign installed in the 1920s, rebuilt as archway in 2001.
The original sign, with green background with white letters, was suspended over the once narrow road in the 1920s when the city was first built. Due to high winds and fear of collapse, the suspended sign was planned to be replaced with a more sturdy replica. When it was decided that a suspended sign would no longer span the now 4-lane road, a design was approved with a truss arch supported by two metal columns. The modern center sign, still with its green background and white lettering, is a nod to the sign's nearly 100 year history.
Carlsbad Sign
Historic sign installed in 1930s, replica sign installed in 2014.
Sitting over historic Highway 101, the original Carlsbad sign spanned the road in the 1930s. A new sign was installed in 2014, spearheaded by a local developer who was inspired by nearby Encinitas' sign. The new sign was designed to replicate the original historic one, however since all that remained of the original was a black and white photo, the new sign takes its blue background inspiration from the adjacent ocean waters.
University Heights Sign
Installed in 1997.
Park Blvd. was once an electric street car route, along its path from downtown to Adams Ave. The University Heights neon sign pays homage to those days. Large gold leaf ostriches, reminiscent of the old ostrich farm that was once at the north end of Park Blvd., sit atop the supporting posts.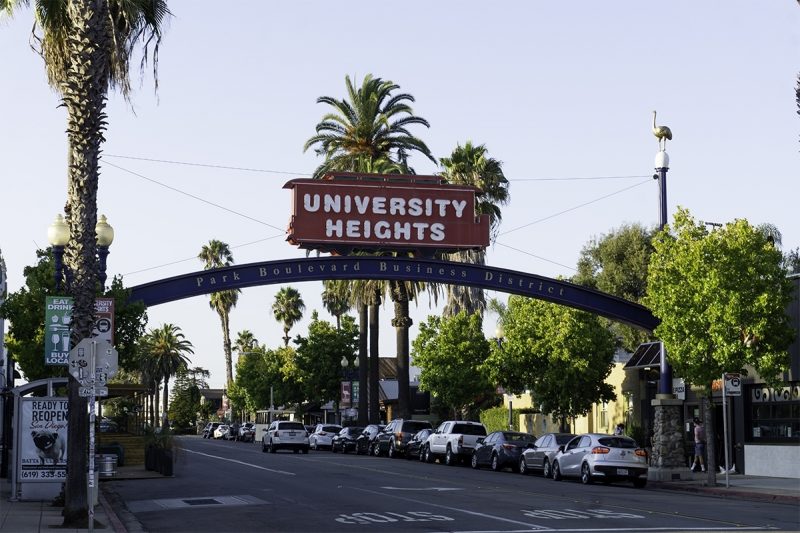 About Society for Experiential Graphic Design
The San Diego Chapter of the Society for Experiential Graphic Design (SEGD) represents the global, multidisciplinary community of professionals who plan, design, and build experiences that connect people to place. With 34 local chapters throughout the U.S. and in countries all over the world, we strive to create meaningful discourse about design's role in shaping how we experience public space. Members include graphic and information designers, fabricators, architects, exhibition designers, technology integrators, interaction designers, brand strategists, students, wayfinding specialists, teachers, and others who have a hand in shaping content-rich, experiential spaces.