About the Tour
Celebrate the rich cultural history of San Diego by experiencing historic homes, buildings and landmarks that tell the legacy of Black, Indigenous, People of Color (BIPOC) in the community. Our virtual and self-guided bike route travels to areas of interest in the urban core of San Diego. Sites feature stories of people, places, policy, and land-use that tell the narrative of San Diego's diverse community. The self-guided bike ride can be done at any time.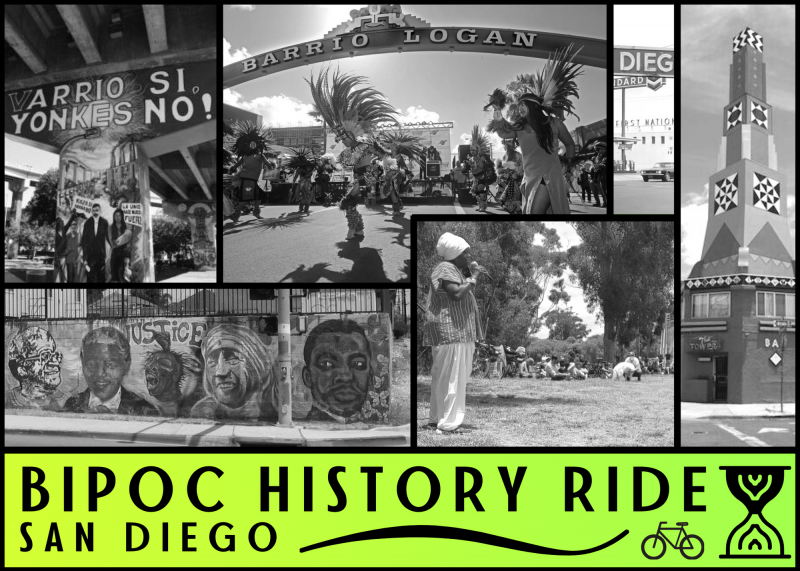 Explore the Sites
Two easy-to-follow bike routes begin in Balboa Park and traverse through the City of San Diego's most culturally rich neighborhoods: The Mid-City Tour and The Downtown, Barrio Logan and Southeastern Tour.
The two routes can also be combined for one long ride through all of the neighborhoods listed. Some sites of interest include Chinese cultural heritage sites in Downtown San Diego, Chicano Park in Barrio Logan, World Beat Center in Balboa Park, Gaslamp Quarter aka "Harlem of the West" and Teralta Park in City Heights.
Thank you to our contributors: the Japanese American Historical Society, San Diego Chinese Historical Museum, Omar Passons, World Beat Center, City Heights CDC, Environmental Health Coalition, Latino Outdoors, Pueblo Planning, and Save Our Heritage.
About BikeSD, CirculateSD, Pedal for Justice SD and the San Diego County Bicycle Coalition