About the Event
Join for a performance by Rancho Shampoo, a project of Guillermo Estrada, which uses a visual play of set design, art, and live music. Combining Mexican and North American pop culture with Kumeyaay and Christian mythology, the performance shares personal explorations around the experience of living in the border region.


Guillermo "combines a series of Mexican and North-American pop-cultural references with Kumeyaay and Christian mythological elements into a series of cosmic, auto-historia, trans-dimensional, multimedia objects and live music and stage act performances. These stem from an understanding of tradition as an ongoing process as opposed to a static form. For Estrada, this is an alternative way to grapple with the experience of living in the region of Campo/Tecate, Calexico/Mexicali and San Diego/ Tijuana, a practice that he refers to as "Aliendigenismo," that is, to be in more than one side of geographical, mental, and cosmic limits, all at the same time. This mythology is equally as important as the factual components of traditional understandings of the history of the region. Through this practice, Estrada hopes that others may be able to recognize aspects of Aliendigenas in themselves and their personal and ancestral histories."
- Eduardo Thomas Valdivia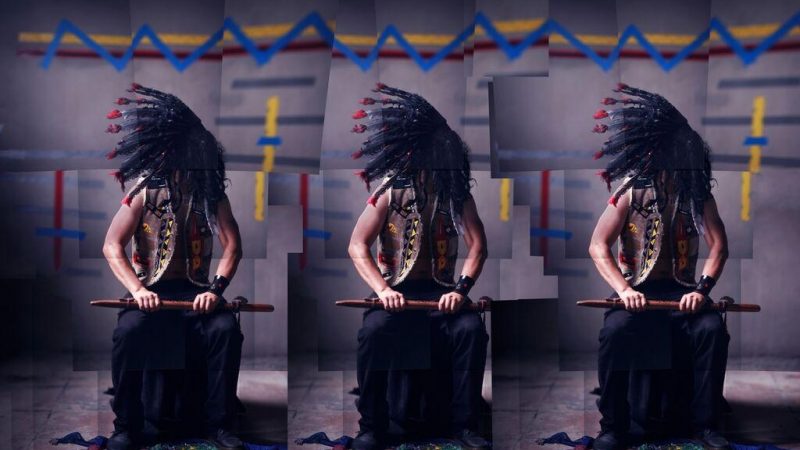 VIDEO: Live Performance by Rancho Shampoo
Watch a live performance by Rancho Shampoo.
Aliendígena and Aliendigenismo, Defined. By Guillermo Estrada
Aliendígena

From the English "alien" and the Spanish "indígena".

A person who has changed their residence to a territory that is not the one of their origin. Being aware of their roots, they delve into them; creating myths and/or legends in the search for means to communicate with their ancestors through memories and fictions, either personal or collective. Through physical, mental and/or spiritual means they acknowledge their own limits and regions.

The aliendígena person communicates in a variety of forms, including at least two languages: verbal or non-verbal, symbolic or imaginary. Based on these, they develop a new identity in order to transform their reality and cross onto other dimensions—the cosmos, the underground, or different temporalities. The aliendígena person consciously uses their imagination, dreams, and life experiences to work creatively. They are able to identify other aliendígenas with whom they will create collectively different legends and/or myths that will give way to alternate realities.

Aliendigenismo

From "aliendígena" and the Spanish suffix "-ismo

"Mental, spiritual and/or artistic activity that, through a collective effort, attempts to rethink and transform identities, regions, territorial, bodily and/or space-time limits. The practice of aliendigenismo can be realized in the public or private realm, however, its outcomes will always be shared with other people. As a result of this activity alternate realities arise—whether in their earthly, spiritual and/or cosmic forms—; bodies transcend their physical dimensions; and emotions create an expanded connection between people. With aliendigenismo it is possible to perceive a pluridimensional reality. Through aliendigenismo the aliendígena people get to be known.
About Guillermo Estrada of Rancho Shampoo
Rancho Shampoo is a music/performance project launched by Guillermo Estrada in 2010. He has created three EPs and has performed in several cities in México and the U.S. His music is an intense search for the well-being of the native communities and an exploration around personal history and heritage. In the year 2013, he issued his debut album as Rancho Shampoo y La Indian Dub Orchestra entitled "El Vuelo del Golondrino" in collaboration with Rubén Alonso Tamayo, Rodo Ibarra, Hernán Franco, David Bautista Toledo, Julián González and Gerardo Montoya.
Website