Partner Highlight
For San Diego Design Week, Passion Planner donated 240 planners and continues to generously provide the tools creatives need to organize their thoughts, businesses, and everyday lives. In our interview with Chelsea Wong, Community Relations Lead at Passion Planner, we learned just how and why Passion Planner is more than just planners.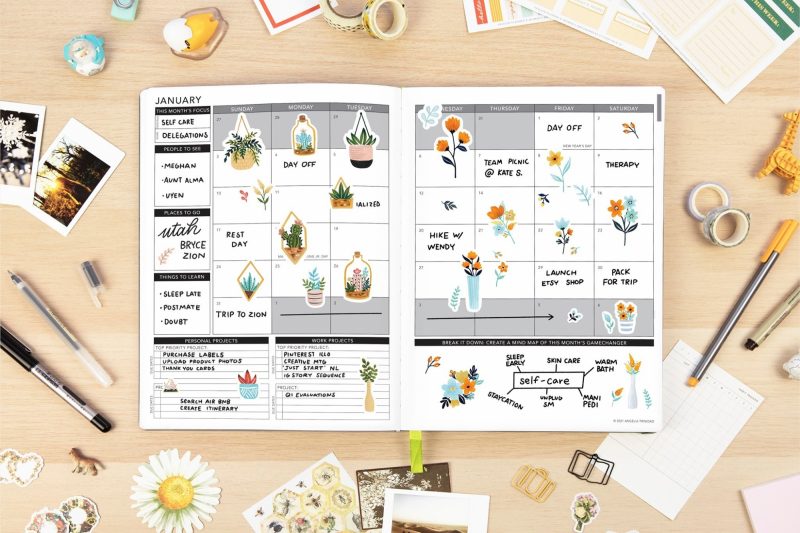 Can you tell us a little bit about the history of Passion Planner?

Many of us have been there—uncertain of what to do or what our next step should be. When Angelia Trinidad, our CEO and Founder, faced this anxiety after graduating from UCLA in 2012, she decided to create a tool to help her regain control over her life: a paper planner that would help her focus on what really matters.

Angelia knew this tool could help others too. In 2013, we launched the first-ever Passion Planner Kickstarter campaign. Over the past 7 years, the Passion Planner team has grown from 3 friends in a garage to about 30 wonderful human beings who simply want to heal the world. Our roots come from our Kickstarter campaign and the generosity of our #PashFam community, and each Passion Planner features a lime green ribbon to pay tribute to how this company first started.

We are more than a planner company. Our mission is to build a world where everyone has access to the tools and community they need to live an authentic and fulfilling life. We didn't have the words back in 2013, but we always knew we wanted to help people create the life they want. It took a lot of challenges, as individuals and as an organization, to inspire us and finally put it into words.

What's the process of designing a planner?

It's a pretty involved process, and our favorite part is getting to work with talented artists both in-house and out! We typically have 3-4 new cover designs a year, and the process starts with our non-profit partners. As a part of our Get One, Give One (G1G1) program, we seek out partnerships with non-profit organizations doing really valuable work for the community that we want to support. We're fortunate to have worked with local San Diego organizations such as ARTS (A Reason to Survive) or San Diego PRIDE. We typically make a monetary donation to these official partnerships of $1 for every Passion Planner sold. We've donated $378,909 so far from our Limited Edition planner partnerships. We also donate a planner for every Passion Planner sold to many individuals and organizations, such as schools, clubs, small organizations, teachers, students, etc. Our G1G1 program has already donated 554,923 planners!

Our team then finds artists we want to work with and if they're on board, it's a 4-6 week process to create the cover design from start to finish. We like to give the artists as much creative freedom as possible, with some initial ideas from our design team to help them get started. The goal is to align our designs with not only the nonprofit organization but our "why" and company mission. The actual design process is pretty straightforward, starting from thumbnail sketches, to B&W drafts, to color, with feedback given between every iteration. It's always a pleasure to share progress and designs with the rest of the Passion Planner Team to get everyone excited for future releases!

In terms of the planner content, it's always been about our #PashFam community and how we can design the best tool for our users. Our most recent planner is the Passion Planner Daily, made by our CEO Angelia Trinidad working closely with in-house designers. Her vision was to create a support system to help and encourage people to live their ideal life every day. New products go through many iterations and feedback from focus group testing before launch.

Where in San Diego would you recommend creatives go to find inspiration?

North Park, South Park, and Hillcrest! Each neighborhood boasts many murals and painted box art. You can explore the neighborhood while discovering new art/artists while being safely outdoors! Pre-COVID, we'd love hanging out here with a couple of art friends to chat, draw, and people watch. There are so many gems of local shops and boutiques to visit, coffee shops to chill in, and eateries to grab a bite.
Is there anything else you'd like to share?

We are so grateful to the #PashFam community. They inspire us every day to continue to build a better tomorrow through our products, resources, and partnerships. Also, we offer a free PDF version of our planners for anyone to print and use, regardless of their financial ability!
You can download their free digital planner here and make sure to follow Passion Planner on Instagram, Twitter, and subscribe to their newsletter.