Sponsor Highlight
Brand identity is a hallmark of graphic design, and San Diego Design Week required an aesthetic that reflected the diversity and interconnectedness of our community—characteristics we believe uniquely define our region. Also, because we know seeing a logo and identifying it can cause joy, create momentum and spark instant recognition.

We called on BASIC, an independent branding & experience design company working at the intersection of culture, design and technology. With an office in downtown San Diego and progressive initiatives to embolden the creative community locally (like Crafted), we knew they could conceptualize the right identity for SDDW.



The whole concept is based on the idea that San Diego and SDDW is made by the community and the individuals that make up the said community. The logo itself is a literal representation of that. Every letter has alternate designs that, when switched out, completely changes the feeling of the word and expresses the impact that each one of us has on the larger San Diego creative community. Each of our creative expressions is needed to bring the wordmark and city to life, ensuring that the identity is not singular in nature and represents the idea of "many." Think of it as a dialogue between the community, the city and the spaces we engage with.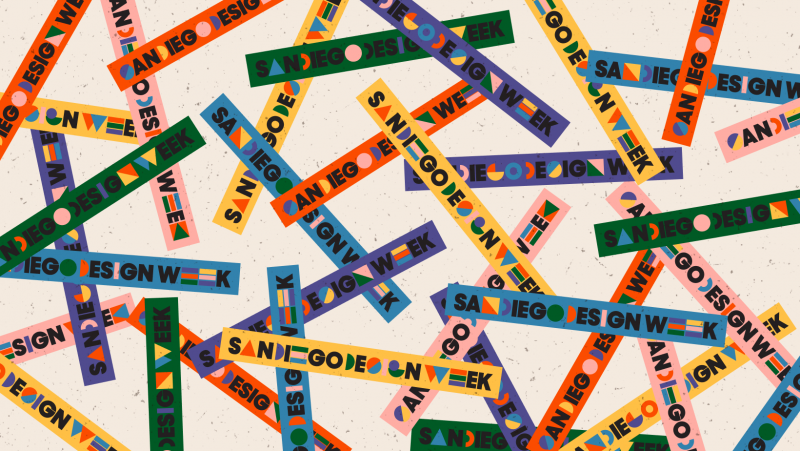 "I believe that San Diego is a special place to be a creator," said Erwin Hines, Creative Director at BASIC. "We have a high level of diversity that allows for different perspectives and we don't have preexisting success structures to hold young creatives back. This means people are able to explore and find their own unique creative voice."
You'll see the full breadth of the identity used throughout our platforms, from social media to our website. BASIC also created amazing posters, which will be available as special giveaways (keep an eye on our social media accounts) and to order through our sponsor Neyenesch during Design Week. Ultimately, our identity aligns with our values: diversity & inclusivity, community building, interaction, education, accessibility and passion. Hines so expertly describes the vision behind SDDW.

"Great design, like all art, is a space for conversation and a conduit for empathy," said Hines. "I would hope that we do not fall into the singular idea of success as it relates to design. Design is at its most powerful when it's diverse in its application and expression."